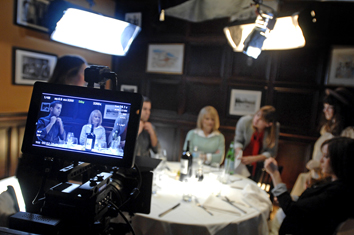 Indianapolis, get ready for your closeup.
Indianapolis city, civic and tourism officials have banded together to attract filmmakers and other professionals in video production in hopes it will give the city a marketing and economic boost.
Titled Film Indy, the two-year, $300,000 initiative will attempt to make Indianapolis a friendly environment for TV commercials and programs, corporate training videos, and movies. The projected $6 million economic benefit would include additional tourism spending by visiting crews, more work for local production companies, and driving more media exposure for the city.
Film Indy "represents the first proactive, unified effort to attract television commercials, shows, and movies to our city," said Indianapolis Mayor Greg Ballard in an official announcement on Wednesday morning.
The effort has its work cut out. Indiana does not offer significant tax incentives for film productions, putting it at a disadvantage to neighboring states that do.
The Film Indy initiative is the product of research and collaboration by tourism promotion group Visit Indy, the Indy Chamber, the Central Indiana Community Foundation and the city of Indianapolis.
The initiative will kick off operations in Visit Indy's offices on Jan. 1 with a budget of $300,000 over its two-year pilot phase. Three groups contributed $100,000 each to the budget: the city, CICF, and Visit Indy.
Planned activities include:
–Creating a website that showcases film locations and provides information on securing necessary permits.
–A soon-to-be-hired film commissioner would market the city to location scouts, producers and the regional and national film community.
–The commissioner also would handle hospitality arrangements for crews and help ensure a smooth production.
The partner groups examined several other major U.S. cities where a city-level film office has helped spark economic impact and the overall marketability of a city, including: Portland, Chicago, Kansas City, Baltimore and New Orleans.
"After examining other cities operating with a similar film office, we estimate this initiative has the potential to generate more than $6 million in incremental economic impact on an annual basis, while engaging our local workforce, and sparking tourism," said Chris Gahl, vice president of Visit indy.
Film Indy will work closely with the state agency Film Indiana, part of the Indiana Economic Development Corp., pitching the city's overall affordability and vast diversity of locations within a short drive. 
Film Indiana has been trying with little luck for more than a decade to draw major film productions to the Hoosier state. That lack of success, filmmakers have said, is because Indiana offers only one incentive to filmmakers. It waives the sales and county innkeepers' taxes on rooms rented for at least 30 days.
Premium Beat, which produces a blog covering the film and music industry, recently rated Indiana No. 4 on its list of 10 worst states to film a movie due to its stingy tax incentives.
Indiana's neighbors are much more generous. Michigan offers a tax credit of up to 42 percent of a production company's expenses related to a film project. Ohio offers a tax credit of up to 25 percent of expenses and 35 percent of the wages paid to state residents. Kentucky offers a 20 percent tax credit.
In a recent example of how Indianapolis has been at a disadvantage for attracting filmmakers, the 2014 movie "The Fault in Our Stars" was filmed in Pittsburgh, although the novel is set in Indianapolis, in part to take advantage of tax incentives offered by Pennsylvania.
Indianapolis does not offer incentives for films.
Film Indy's founders hope the initiative will help make the argument for state incentives.
"In lieu of state-level tax incentives, we will package Indy's overall affordability and diversity of locations within a short drive as savings for producers," Gahl told IBJ. "Our plan is to show strong demand for filming in Indy, to supply these facts to those in the Statehouse considering bills to offer state-level incentives."
An effort by Indiana Sen. Lonnie Randolph started in 2014 to establish incentives for film and TV production has not yet been effective.
Major corporations that have recently filmed TV commercials in Indianapolis include Papa John's, Apple, Visa, Reebok, TaylorMade, Delta Faucets and Subaru. TV shows recently filmed here include: Travel Channel's "Man vs. Food" and Food Network's "Diners, Drive-Ins and Dives."
 
Please enable JavaScript to view this content.