Today's category: things you don't see every day from a college president.

Guess who ...

... once arrived at a campus groundbreaking riding a tractor?

... twice showed up at the university's football game on horseback?

... led the team onto the field this past season on a three-wheeler?

"There's a little Barnum & Bailey in me," Dan Elsener said in his office the other day. "Let's face it."

Meet the president of Marian University. You probably already have if you've gone to a Knights football game, because Elsener works the crowd as if he were running for mayor.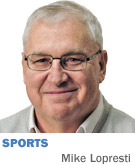 "We're salesmen, too," he said.

What he sells mostly are ideas, and just over a decade ago, he had a beaut. Start a football program at Marian. There was no stadium, no coach, no players, no money. And, it seemed, no chance. The team's first practice field was overrun by geese. The first home game was 2007, at Pike High School.

Come Dec. 19, in their ninth season, the Marian Knights will be in Daytona Beach, Florida, playing in their third NAIA national championship game in four years against Southern Oregon. Dan Elsener's baby, all grown up.

"It's a strong lad, isn't it?" he said.

The Knights are 11-2, outscoring teams by an average of 42.5-14.4. They beat Division II University of Indianapolis. Frank Gore's cousin Jakhari is a running back. The top receiver, Krishawn Hogan, has scored 14 touchdowns in three NAIA playoff victories, meaning he's averaging 28 points a postseason game, which sounds more like Paul George than a football player. The quarterback, Hayden Northern, is a Martinsville product and career passing leader. One of the safeties, Griffin Elbert, is a medical student. He might be the only defensive back in the nation who, when not working on zone coverage, is working on cadavers.


Elsener
Just off West 30th Street is the nifty St. Vincent Field, with all the donors' names on the Pillars of Support. Elsener wheedled, cajoled and arm-twisted until they finally gave him enough money to build a stadium in 2009. Then he did the same thing until they gave him enough money for a medical school next door.

Never mind the place was nearly broke when Elsener arrived.

"In 2001, we had one foot in the financial grave and one foot on a banana peel. Basically, we were bankrupt. We had to borrow a couple of million dollars from the nuns to keep it open. We paid it back, with interest."

That was the time, during a convocation, he held out two checks to the Mother Superior: one to pay the debt and the second as a surprise interest bonus. Brought the house down.

"It was a tear-jerker," he said. "That was an important moment for Marian. Now they knew we were rolling." Hard to say if that was Barnum, or Bailey. But we digress.

None of this should have happened, if you look at it logically. The 2012 national championship, the 13-3 record in the national playoffs, the crowds on the west-side campus on game Saturdays—150,000 since football began. Who starts a football program from nothing in these cash-strapped days? Why would anyone even think about trying it?

Go back to the 1960s in Lincoln, Nebraska. There was little Danny Elsener, using any trick to see the Cornhuskers for free. He marched in with the band twice, slipped into the stadium another time on a garbage truck. He found an open door in the locker room, and hid in one of the stadium rest rooms three hours until kickoff. He climbed over fences and tunneled under them. He sold hot dogs, but by the third quarter, abandoned the effort so he could watch the game.

He played the sport in high school and at Nebraska Wesleyan University, and he learned a couple of things about football: It built character. "A laboratory for leaders," he called it. And it could enliven a university community, if done correctly.

Flash forward to the 21st century, at Marian University.

"You could come out here on a Saturday and do target shooting, and you wouldn't have to worry about hurting anybody," Elsener said. Marian needed something to get folks to campus, including alums who had left and never come back. He figured, football.

"You can imagine," he said, "this was a lightning rod."

He started knocking on doors, trying to enlist support from the big-money folks.

"Some of them said we were nuts," he remembered. He repeated to many what he said to a doubting Eli Lilly and Co. CEO John Lechleiter: "John, you've got to trust me on this."

He went to the university community and faculty. That was not always smooth, either.

"Some of them came over here—I'll never forget it—and sat at the end of this table and said, 'You sure you want to do this? Because there's some faculty that might run you out of here.'"

Someone showed him a letter an English professor had written the last time a Marian president had suggested a football team. The pertinent passage: Anybody who tried the idea should be "drawn and quartered."

But he kept pushing, selling, finding allies. He was driven by the parable on commitment he had heard long ago at a principal's convention from a motivational speaker. It was Lou Holtz, telling the story of the soldier in a faraway land on Christmas Eve. His father had died a drunk, his mother had worked herself to death trying to raise a family alone, his girlfriend was thousands of miles away. The homesick soldier headed for the gate to leave the base, and when stopped by a guard, said, "My mother's in Heaven, my father's in Hell, and my girlfriend's in Chicago, and I will see one of them tonight."

Elsener has never forgotten that story, though he said, "I've quit telling it around here because I think people start rolling their eyes."

Piece by piece, it all came together. Marian held a press conference for the groundbreaking for new locker rooms. No press came, but there were plenty of supporters. That's when Elsener roared in on his tractor, stood up and announced Marian wasn't going to have just a football team, but a championship team.

The Knights lost their first seven games that season. By 2009, the new stadium was ready. Elsener arrived that day on a horse. By 2010, Marian was in the NAIA playoffs. By 2012, national champions. Original coach Ted Karras Jr. left, but new man, Mark Henninger, has taken them back to the title game last season and turned them into this: a bona fide national power.

Meanwhile, Marian enrollment has tripled. The endowment has grown exponentially.

"One thing I'm proud of—and this is a big thing people don't see—is, we have confidence now," Elsener said. "I don't believe we would have ever built a medical school if we weren't successful in building a football program."

When all this started, he said, Marian would raise $1.5 million in a good year. This year, it will likely top $20 million.

"Money's not important to me, but what you can do with it is pretty impressive."

Bottom line?

"It gave us a spark. It gave us confidence. It gave us new leaders. It brought people home. It brought donors."

He understood from the beginning that a losing program would doom the idea. Marian certainly wasn't Division I, with its different priorities.

"If this is Division I, my medical student is not playing football," he said. But excellence could still be demanded.

"Every coach we've hired—and this is true for football and everything else—I've said, 'Look, if you win, we're going to love you. If you lose, we're going to love you, and we're going to miss you.'

"We're going to be serious about this, because you can't build a laboratory for character development being halfway. We're either committed or we're not."

Marian has pulled this off because Elsener had athletic directors and faculty members and community leaders who felt the same way. It is a thriving program now. He might not need any more horses or tractors.

"Probably early on, I played a bigger role than I should have. A president shouldn't do some of the things I did. It didn't look very sophisticated. But I think it was good we did it. Looking back, I never claimed to be the smartest guy in the world, but I have instincts. I think we needed that. People needed to know—like the Lou Holtz thing—that we were going to see one of them tonight. We were going to march. If the hills were high, we weren't going to say, "No, that's too hard.'"

Now he can't wait to get to Florida, and watch Marian pick up a second national championship ring. There are times when he is working in his office or walking by himself, that he will slip on the ring from 2012. A proud father, of sorts.

"It inspires me to think about how, if you have a big idea and the courage and you get people involved and you let them share it, there's nothing you can't do.

"We've done a few things that made a little magic."•

__________

Lopresti is a lifelong resident of Richmond and a graduate of Ball State University. He was a columnist for USA Today and Gannett newspapers for 31 years; he covered 34 Final Fours, 30 Super Bowls, 32 World Series and 16 Olympics. His column appears weekly. He can be reached at mlopresti@ibj.com.