Every television station in the Indianapolis market is facing a potentially enormous payday as the Federal Communications Commission attempts to buy spectrum space to resell to wireless, broadband and other technology and communications companies.

The hitch: Stations that capitalize will have to move to a less-desirable broadcast frequency, or even stop broadcasting altogether.

In October, the FCC released a list of eye-popping potential auction prices for 1,800 stations nationwide—including 20 in central Indiana. Operators of local stations who agree to give up their license and go off the air could reap a windfall of $90 million to $302 million.

And some of the biggest bucks could flow to the most unlikely operators.

"The prices have nothing to do with the station's commercial value," said FCC spokesman Charles Meisch.

Instead, he explained, the values relate to where the station sits on the broadcast spectrum dial—UHF channels are worth more than VHF—and how much interference those stations cause with nearby frequencies. A lesser, but still important, factor is the reach of the station's broadcast signal.

That means WIPB, a relatively tiny Muncie station owned by Ball State University, finds itself in a potentially lucrative position. In addition to having a UHF frequency, its location between the Indianapolis, Fort Wayne and Dayton, Ohio, markets means it creates more interference—by a wide margin—than any other central Indiana station.

And WRTV, which brings in less revenue than WTHR, WTTV and WXIN, could fetch tens, if not hundreds, of millions of dollars more than those stations due to its position on the spectrum.

The FCC has assigned an opening bid—which actually serves as a maximum bid for what the agency calls a reverse auction—of a whopping $302.1 million for WRTV and a hefty $276.4 million for WIPB.

Those numbers are giving local broadcasters pause.

Ball State's trustees this fall authorized university President Paul Ferguson to participate in the auction.

Ferguson has not decided yet whether the school will take the plunge, said Ball State spokeswoman Joan Todd. University officials said giving up WIPB's license doesn't necessarily mean it would go dark—it could share a channel with another station or stream content through the Internet.

WRTV General Manager Larry Blackerby did not return calls seeking comment.

Uecker
"It's an interesting time for broadcasters," said Scott Uecker, a University of Indianapolis communications instructor and general manager of UIndy TV, which is broadcast only on campus and is not eligible for the auction. "Do you take a big check, buy an island and retire? Do you take a smaller check, accept a new space on the spectrum, and try to retool for the future? Or do you just go on and hope there is a long-term future for the television industry in this changing landscape?

"For WIPB, this is a monumental decision," Uecker said. "$150 million or $200 million in an endowment means WIPB would never have to worry about a fundraiser again."

Many public TV stations have endowments under $5 million. The endowment for Indianapolis public station WFYI-TV Channel 20, for instance, is $3.6 million.
Wright
While WFYI President Lloyd Wright said few public stations will receive enough to eliminate fundraising, he added that the reverse auction could be "very lucrative" for some.

But, despite a maximum bid price of $246.6 million for WFYI to give up its license and go off the air, Wright vowed "under no circumstance would we relinquish our spectrum and go dark."

Other lesser-known local stations also find themselves in a tempting position. The most interesting case might be WDTI-TV, an obscure station broadcasting religious content. Texas-based Daystar Television Network bought the station—then known as WTBU—in 2004 for a mere $4 million from Butler University. The FCC is offering a maximum $200.7 million if Daystar will sell the station's license and pull it off the air.

"Boy, oh, boy, if Butler would have just held onto it for a few more years," Uecker said.

WDTI did not respond to requests for comment.

Meanwhile, WTHR, the market's biggest money-maker, has a bid offer of only $181.9 million. Nothing to sneeze at, but its commercial value is more than 10 times that of WDTI.

Lots of confusion

Participating in the auction doesn't mean a station operator has to go off the air.

The FCC is offering three options. The first—and most lucrative—is to give up the license and go dark. The second is to move to a low VHF frequency. The third option—which pays the least—is to move to a high VHF frequency. Unlucky stations already on VHF might not have these options.

A station fortunate to sit on the UHF band could still make a lot of money by moving to part of the VHF frequency—and viewers would likely notice little, if any, difference.

The FCC made an opening bid to WFYI of $184.9 million to move to the low part of the VHF band and $98.6 million to move to the high end. While WFYI isn't likely to get those full amounts in the reverse auction, industry insiders said the station could still get tens of millions of dollars for either option, and viewers wouldn't notice any change in the near term. The risk is that, as technology advances, broadcasters will lose flexibility of what they can offer on VHF compared with UHF.

"This is a very big decision with a lot of uncertainties," Wright said. "We're still working through it all."

The electromagnetic spectrum is the range of invisible wireless frequencies used by everything from X-rays, baby monitors and garage door openers to smartphones, tablets, and broadcast radio and television. Certain parts of the spectrum, including the ultra high frequency (UHF) and the lower bands known as very high frequency (VHF), are licensed by the federal government so the signals don't interfere with one another.

For technical reasons, the UHF spectrum is the most desirable for a variety of operators and of most interest to the FCC for reorganization.

Complicated process

Valuing the spectrum space is only the first tricky element of the FCC's reverse auction and subsequent reshuffling, known in industry circles as repacking. The auction itself will also be complicated.

The FCC essentially starts by asking which stations would like to sell or move to a different frequency based on the maximum bid price. If a plethora volunteer for those hefty payouts—which most broadcast experts predict will happen—commission officials then ask which stations would sell or move at 95 percent of the opening price.

The FCC will use a set formula to decrease its offer a little with each round of the auction, which will end when the commission finds a balance between how much it's willing to spend and the right combination of spectrum space it wants to acquire.

"This is one of the most complex, complicated situations, because there are so many unknowns and even more variables," Uecker said.

One thing is certain: "Every TV station in the country—commercial and non-commercial—has their eyes on this issue," said Robert Unmacht, a partner at iN3 Partners, a Tennessee-based investment banking consultancy focused on broadcasting and technology. "This is at the very top of broadcasters' agendas."

The window for stations to opt into the auction opened Dec. 8 and closes Jan. 12. Stations can opt out at numerous steps along the way, but if they don't opt in by Jan. 12, there is no chance to jump in later.

What final price any specific station might fetch is anyone's guess, but Unmacht said there's little doubt some broadcasters will net multiple millions.

"The numbers the FCC is throwing out are pie-in-the-sky, but they're not that pie-in-the-sky," he said.

And there's a simple reason.

"There's a tremendous market for this frequency space," Unmacht said. "The FCC wouldn't be doing this if it wasn't sure it could make billions of dollars by buying [the space] from TV stations and reselling it. And it's not just cell phone companies like T-Mobile and AT&T that want this space. Companies like Google have a strong interest. We are fast becoming a world that will connect everything wirelessly."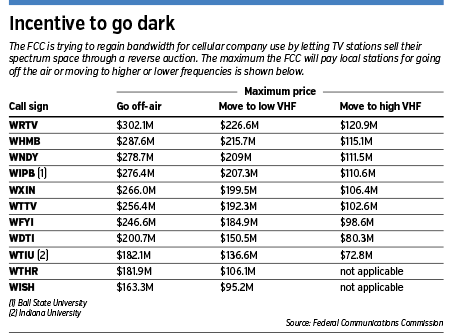 Likely sellers

Interest is highest in the nation's largest markets. Maximum bids for some New York stations to go dark are as high as $900 million and top bids for some Chicago stations are above $600 million. The average opening bid nationwide to sell a license and shut down is $181.8 million.

The most likely stations to sell, industry experts said, are those that have a small audience and generate modest, or no, revenue—those that wouldn't be hurt by sharing spectrum with another station, or operators with multiple stations without network affiliation in one market.

"I would be somewhat surprised if any network-affiliated station in this market participated," Uecker said. "I think those stations are profitable enough for the foreseeable future that they are more valuable as an ongoing broadcast enterprise than what they could get from a one-time lump sum."

TV stations in the Indianapolis market last year brought in a total of $220 million to $250 million in revenue, according to industry research firm BIA Financial Network Inc. The vast majority of that flowed to WTHR, WXIN, WTTV, WRTV and WISH.

Virginia-based Media General Inc, which owns WISH-TV and WNDY-TV, would be a likely candidate to sell one of its stations, industry sources said. Neither has a major network affiliation. Media General officials declined to comment on their plans.

While sources said WTIU, the public station owned by Indiana University, and Ball State's WIPB could benefit from a channel-sharing arrangement, possibly with WFYI, WFYI's Wright said his station is not interested.

"We don't want to give up any of our flexibility or capabilities in terms of what we offer the public," he said.

Officials for WIPB and WTIU could not be reached for comment.

Whether stations decide to take part in the auction or not, they'll be subjected to the reorganization of the spectrum space after the auction is complete.

The auction is expected to close during the third quarter of 2016. The newly configured frequency space is set to take effect by late 2019 or early 2020.

Stations are not pleased they are being reshuffled so soon after the 2009 reorganization for the digital transformation. But FCC officials said TV watchers—especially those tuning in through cable or satellite—should notice little difference.•