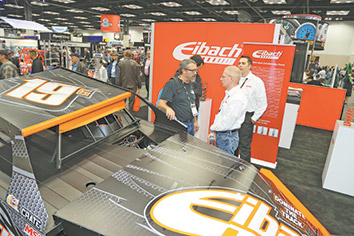 Attendance at the Performance Racing Industry Show at the Indiana Convention Center shifted into a higher gear over the weekend, along with the show's economic impact.
The show's attendance has grown every year since it moved to Indianapolis in 2013 from Orlando, Florida, the show's organizers said. The latest edition of the annual event devoted to racing gear wrapped up its three-day stay on Saturday.
"Indianapolis is where this show belongs," said Lucas Oil Co. founder Forrest Lucas. "PRI is a racing show and it belongs in Indianapolis, the racing capital of the world, not Disney World. The location now is a big reason it's growing."
Visit Indy CEO Leonard Hoops said Monday that attendance at this year's event was 55,632, up from about 49,000 a year ago and from about 38,000 in 2012, the last year it took place in Orlando.
Several of the expo's 1,200 booth operators said they experienced record sales.
"The show's been excellent this year. We had many more people come by this year than we initially anticipated," said Melissa Moorhead, spokeswoman for Kent, Washington-based Rottler Manufacturing, which makes a variety of machines used to make auto parts.
 
"It seems like attendance has been larger than it has been in the past, and we've seen a good variety of customers," Moorhead added.
"This is probably the busiest Saturday I've ever seen," Penske Racing Shocks' Matt Giles said of the show's final day. "We've been busy non-stop."
PRI spokesman John Procida said this year's show wasn't just crowded.
"We had a lot of people buying," Procida said. "That's a good sign that the economy is really bouncing back. If attendees at this show are buying, that means they've got money coming in. That means the racing industry is doing well."
The local economic impact of the 2014 show was estimated by tourism group Visit Indy at $46 million. Before this year's show started, Visit Indy projected a $57 million economic impact—among the largest of any 2015 trade show or convention in Indianapolis.
Given the larger-than-expected influx of attendees—including more than 3,000 from outside the United States—the impact of last weekend's event potentially could surpass $60 million.
The 2016 PRI Show is scheduled for Dec. 8-10 at the Indiana Convention Center.
Despite the show's growth, PRI officials won't consider expanding the show floor into Lucas Oil Stadium, as one of the city's other massive trade shows, Gen Con, has announced it will do next year.
"We want to keep everything relatively compact and under one roof," Procida said. "We think that's what works best for our exhibitors and attendees. We're very happy with the way things are. Indianapolis is home."
Please enable JavaScript to view this content.