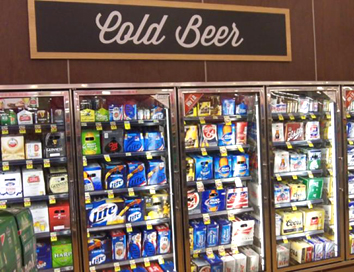 Cold beer will continue to be sold only by licensed liquor stores in Indiana.
The 7th Circuit Court of Appeals has upheld a state law that prohibits convenience stores, gas stations and other retailers from selling beer cold in the state. A three-judge panel ruled unanimously in a decision announced Monday.
The Indiana Petroleum Marketers and Convenience Store Association, or IPCA, filed a lawsuit last year against the state, arguing that the restrictions on cold beer sales were discriminatory and didn't allow for a fair marketplace. Currently, convenience stores can sell warm beer and cold wine.
In a 13-page opinion written by Judge Diane Sykes, the court found IPCA failed to carry its burden in showing why the state's cold-beer statute is unconstitutional.
"The association's policy arguments for allowing cold-beer sales by grocery and convenience stores are matters for the Indiana legislature, not the federal judiciary," Sykes concluded in the case.
The IPCA filed a lawsuit in the U.S. District Court for the Southern District of Indiana in May 2013. The plaintiffs argued Indiana's statutes regarding cold beer sales violated the Commerce Clause, the Equal Protection and Due Process clauses of the 14th Amendment, and parallel provisions in the Indiana Constitution.
However, the association failed to convince Judge Richard L. Young, who said restricting the sale of cold beer to package stores was rational and not unconstitutionally vague.
In his 34-page ruling, Young wrote: "The state has a legitimate interest in limiting the sale of alcohol and, more to the point, a legitimate interest in curbing the sale of immediately consumable beer to minors."
Expanding the sale of cold beer beyond liquor stores, taverns and restaurants would make Indiana's alcoholic beverage laws "tougher to enforce" by creating many more outlets at which minors could purchase cold beer, Young wrote.
The IPCA appealed the case before the 7th Circuit in January. Arguments were heard by Sykes, Ann Claire Williams and Kenneth Ripple. IPCA lawyers said Indiana regulations have evolved "in an irrational and discriminatory manner that favors one class of retail over another."
The appeals court said Indiana does not have "nearly absolute" authority to regulate alcohol sales under the 21st Amendment, as the state contended. However, the judges said, states do have broad authority to design their regulatory systems for alcohol distribution.
To overturn Young's decision, the appeals court said IPCA would have to prove "Indiana's cold-beer regulatory scheme treats its members differently than others similarly situated and the difference in treatment is not rationally related to legitimate state interest."
The judges said IPCA had a heavy burden to show the state had no "conceivable basis" for its rules. It was unable to do so, the court said.
The Indiana Association of Beverage Retailers applauded the appeals court ruling.
The judges "clearly recognize that package liquor stores are subject to stricter regulations than any other retailer of alcohol in the state of Indiana," said IABR CEO Patrick Tamm in a written statement. "Indiana like many other states have public policy goals to limit and control the distribution of alcohol. To accomplish this goal, many states have reasonable restrictions on the sale of alcohol and Indiana is no different."
 
Please enable JavaScript to view this content.