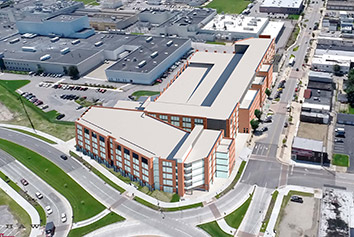 Two local developers are teaming to build a $50 million mixed-use project adjacent to the Indianapolis Motor Speedway that would anchor the town's revitalized Main Street.
Loftus Robinson and Scannell Properties expect to start construction in the summer on the five-story building and finish in 2018. Plans call for 150 apartments, 10 condominiums, a 120-room hotel, 15,000 square feet of retail, and a 500-space parking garage.
The project is set to be constructed on 3.4 acres the developers are buying from the town at the southeast corner of the roundabout near the front door of IMS. The roundabout opened in November 2014 and links Crawfordsville Road and East 16th Street to Main Street, while closing Georgetown Road.
"Having grown up being a huge fan of the Indy 500, it's always been a special place to me and us as a business," said Drew Loftus, a principal at Loftus Robinson. "It's a place that certainly has a lot of momentum. Hopefully, this project will go a long way to keep the momentum going."
Speedway's Redevelopment Commission is prepared to offer tax-increment financing funds and will determine an amount once the exact scope of the project is finalized, said its executive director, Scott Harris.
The development could serve as the crown jewel to Speedway's efforts to transform the town into a year-round racing destination. Town officials in 2005 began planning redevelopment of a 700-acre area as part of a strategy to make over its Main Street.
"It absolutely would be the biggest thing we've ever done," Harris told IBJ. "It's a great fit for that corridor and that corner."
Commission members in June began seeking proposals for a mixed-use development for the parcel and ultimately selected the team of Loftus Robinson and Scannell from seven responses.
The other six bids included components of the winning proposal, but the submission from Loftus Robinson and Scannell provided the scale commission members favored, Harris said. Indianapolis-based DkGr LLC is the project's architect.
The development will be called Wilshaw in honor of Wilbur Shaw, the last native Hoosier to win the Indianapolis 500. Born in Shelbyville in 1902, Shaw took the checkered flag in 1937, 1939 and 1940.
He was killed in an airplane crash near Decatur on Oct. 30, 1954, one day before his 52nd birthday.
A ceremonial groundbreaking on Wilshaw is set for May to coincide with the 100th running of the race on May 29, Loftus said. The developers also will sponsor the Dreyer & Reinbold Racing team in the race.
Developers are finalizing a deal with a hotel brand and hope to have an announcement soon, Loftus said.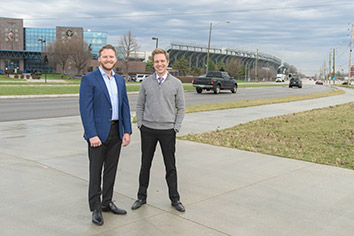 Drew Loftus, left, and Kyle Robinson are part of the team that submitted the winning proposal to develop a 3.4-acre parcel near the Indianapolis Motor Speedway. (IBJ photo/Eric Learned)
A hotel near the Speedway would fill a void. The track has been without a lodge since the 96-room Indianapolis Motor Speedway Motel closed in December 2008. Built in 1963 and now demolished, the hotel played host to celebrities such as James Garner, Jim Nabors and Paul Newman.
"Replacing the rooms that were part of the Brickyard hotel is a logical step in redeveloping the town of Speedway," Visit Indy Vice President Chris Gahl said. "We feel confident that a 100- to 200-room hotel could be filled not only by race tourism but Indianapolis tourism as a whole."
The $50 million development would sit at the gateway of Main Street and would join a growing list of nearby projects.
Speedway finished $10 million in improvements to the street in May 2011. A year later, the Italian-based racing company Dallara opened a $7 million factory on the street to manufacture the chassis for the IndyCar series.
Also in 2012, Sarah Fisher Hartman Racing opened a $2.7 million headquarters to house her IndyCar Series race team. She plans to open a karting center there in April.
Daredevil Brewing Co.'s 10,000-square-foot microbrewery opened in June, and construction is under way on Big Woods' 7,500-square-foot restaurant and beer garden at the south end of Main Street.
Other projects in the works include a 50,000-square-foot production facility for OMR, an international automotive components manufacturer, and a 41,000-square-foot race shop for Juncos Racing.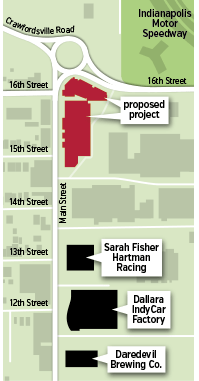 In all, officials anticipate up to 2.5 million square feet of development, spanning from Main Street to Holt Road and from 16th to 10th streets.
"Speedway has long worked to partner with a group to develop this land, and we are delighted with what Loftus Robinson and Scannell Properties have presented," Speedway Town Council President David Lindsey said in a prepared statement.
Loftus and Kyle Robinson launched Loftus Robinson in 2011 with the redevelopment of a trio of connected office buildings in Broad Ripple.
They since have tackled larger projects. Among those is the $28 million Switch mixed-use development on land where the Fishers Train Station once stood. The project includes a three-story office and retail building, a four-story apartment complex and a 442-space parking garage.
They've also embarked on a $7 million renovation of a vacant 12-story office building east of Monument Circle, with plans to move the firm's headquarters there from Broad Ripple.
Scannell Properties, founded in 1990 by former Duke Realty executive Robert Scannell, is broadening its portfolio from industrial and office projects. Scannell hired David Ravensberg last year as director of its mixed-use platform.•
Please enable JavaScript to view this content.