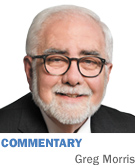 As I'm out talking with folks in the business community, many times the conversation turns to something that sounds like this: "So, everything must be going well at IBJ. As far as I'm concerned, you guys are the only game in town. You've got the news I'm looking for, and I see a lot of ads in the paper."
I always thank the observer for the kind comments and respond that, while revenue is not what it was in the "glory days" (2008 and prior), we're doing just fine. And I'm pleased to report that 2015 was what I call a breakout year. To use a football analogy, in 2015 we played a solid game the full 60 minutes.
There are many reasons we have a viable business plan, even though we're in an industry that is experiencing transformation. First, and foremost, we're locally owned by great owners deeply committed to our business and the community in which they live. That's a big advantage. I can concentrate on running the business instead of driving a stock price.
IBJ can be successful in a rapidly changing industry because we haven't decimated our newsroom like many newspaper companies have been forced to do over the past several years. The key to our business is content, content, content. Provide great journalistic, relevant and unique quality content that folks want and need. Then deliver that content to them how, where and when they want it and the rest should take care of itself (if you watch expenses carefully).
On the business side of our organization, the big reason we continue to attract strong advertising and sponsorship investments from local and national companies alike is the quality of our readership. Here are some quick facts about the typical IBJ newspaper reader (as provided by a study conducted by Research USA in August):
■ 42 percent are owners or partners in a business.
■ 52 percent hold top management positions in their firm.
■ 80 percent have purchasing/specifying authority for products and services purchased by their firms.
■ Average household net worth is $2.4 million.
■ Average individual income is $234,000.
■ 49 percent have attained millionaire status.
■ 83 percent consider IBJ a primary source and one of their most important sources for local business news.
■ Average time spent reading IBJ each week is 40 minutes.
I've focused on IBJ, the newspaper, because many people have the incorrect perception that most newspapers are dying and, by association, IBJ must be dying on the vine, too. Not so. In 2015, IBJ's print-edition subscriber numbers are up and print advertising revenue is up substantially. And, of course, it makes logical sense that digital readership and digital advertising has been increasing exponentially the past decade.
I admit that, more and more of what we do resides in the digital realm—on the Internet, via mobile devices like smartphones and tablets, and e-newsletters in your email inbox. The positive here is that our digital opportunities increase and broaden our reach from the smaller, but highly targeted influential and hard-to-reach audience of the newspaper to a much larger and more diverse audience numbering in the hundreds of thousands. More people know the IBJ brand today than at any time in our history. This additional distribution of quality news and information from the brand people know and trust will only increase each year.
And our event business continues to thrive. This was a record year in attendees and sponsorships. Again next year, we'll present more than a dozen events on a spectrum of topics.
Speaking of 2016, it's a big election year. IBJ will keep watch on the Statehouse and on the gubernatorial election. I've also heard there might be a presidential election. Could Indiana be in play again? You can count on IBJ to keep you apprised—in print, online and in our monthly Forefront section—of the political issues of the day.
So, the future looks bright, thanks to all of you—our paid subscribers, readers, advertisers and sponsors. Thank you for your support. We'll continue to work hard to earn your trust and patronage by providing you innovative products and the highest quality, in-depth central Indiana business news and information available anywhere.
As I always say, thanks for reading IBJ. I wish you and yours a Happy New Year. Best wishes, good health and much success in 2016.•
__________
Morris is publisher of IBJ. His column appears every other week. To comment on this column, send e-mail to gmorris@ibj.com.
Please enable JavaScript to view this content.