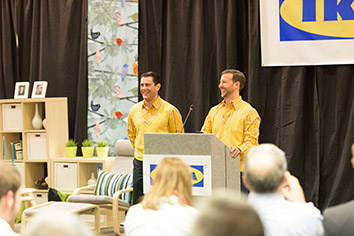 Ikea checked an item off the Indianapolis area's wish list when the Swedish retailer announced in November it plans to build a nearly 300,000-square-foot store in Fishers.
The new location—which won't open for nearly two years—will be built on 35 acres along USA Parkway in the Exit Five Corporate Park, near the East 116th Street and Interstate 69 interchange.
The home furnishings giant is investing $40 million to purchase the land and construct the building and a 1,000-space parking lot.
It will be the first Ikea in Indiana. The company has 41 stores in the United States, with the nearest locations in West Chester, Ohio, and Bolingbrook and Schaumburg, Illinois.
Concerns about the added traffic Ikea will attract immediately followed the Nov. 10 announcement as congestion is already a problem along I-69 near 116th Street, especially during commuting hours.
Fishers Mayor Scott Fadness has maintained that Ikea shouldn't add to the problem. The store's peak shopping times are on weekends and it doesn't open until 10 a.m. during the week.
But the city is investing millions of dollars into several road projects to upgrade the infrastructure and is waiving more than $1.6 million in fees Ikea would otherwise have to pay.
The incentives deal also requires the city and Indiana Department of Transportation to complete road projects on schedule or Ikea will be eligible for a property tax abatement.
Development experts are anticipating that Ikea will draw other retailers, hotels and restaurants to the Exit Five park, which is controlled by Sunbeam Development Corp. About 300 acres remain available in the area and Sunbeam has been talking with other major retailers.
Groundbreaking for the Ikea store is expected to take place in fall 2016 and the opening is scheduled for fall 2017. The company brings in $90 million annually at an average U.S. store and reported earning $4.6 billion nationwide in fiscal year 2014.
—Lindsey Erdody
Please enable JavaScript to view this content.