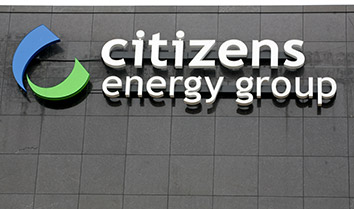 Indianapolis-area residents would see their monthly water rates rise by an average of $5 under a settlement announced Wednesday between Citizens Energy Group and a state consumer agency.
Under the terms of the agreement, the average bill for Citizens' 318,000 residential customers in the nine-county Indianapolis metropolitan area would increase from about $30 per month to $35, according to the utility.
Citizens initially requested a slightly larger hike from the Indiana Utility Regulatory Commission in June that would have elevated average monthly rates by another dollar. In October, the Indiana Office of the Utility Consumer Counselor petitioned regulators to limit Citizens' request by half.
The IURC still must approve the settlement before the proposed rates can take effect.
Citizens has maintained that it needs the increased revenue to help pay for repairs to the city's aging water-delivery infrastructure. The OUCC objected to saddling ratepayers with so much responsibility for system repairs.
The OUCC also advocated that the utility keep steady its flat monthly customer charge. Citizens proposed a flat fee increase of about $3.50 for at least some residential ratepayers, which the OUCC said would create "rate shock" for low-volume users. Under the terms of the settlement, the monthly customer service charge would not change.
"Both parties have worked very hard over the last couple of months to negotiate a settlement that puts customers first while keeping in mind the revenue needed in order to make necessary infrastructure improvements to our water utility," said Jeffrey Harrison, CEO of Citizens Energy Group in a prepared release.
Citizens also has agreed to create a crisis fund that will help eligible, low-income residents with paying their bills. The utility will provide $100,000 annually to the fund using revenue it collects from leasing cellular phone transmission facilities on water towers.
Rates also would rise for business customers. The impact on their bills is too difficult to generalize, due to the wide variance in how much water different businesses consume, according to Citizens spokesman Dan Considine. Those customers can contact the utility to determine how their bills would increase.
The rate agreement will have no effect on Citizen's sewer, natural gas or steam utility rates.
Citizens says it has has invested more than $230 million in water-system upgrades since it acquired the water utility in 2011, including programs to replace water mains and install more fire hydrants.
Please enable JavaScript to view this content.