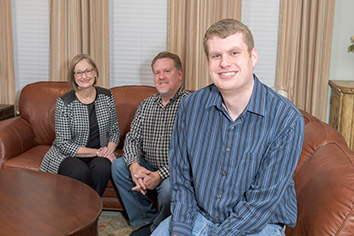 Marion County is suffering from a severe shortage of affordable housing, recent data from the Urban Institute show, and the inventory is not expected to increase anytime soon.
That's because the most popular financing option available to help build affordable housing projects is limited to the extent that only a small fraction of the developments get built.
Each February, the Indiana Housing & Community Development Authority awards federal tax credits to developers to renovate, acquire or construct affordable rental units in a process that is highly competitive.
Affordable housing rents are based on incomes—typically less than 60 percent of the median income for an area. In Marion County, the median income is $69,700 for a family of four.
A dollar-for-dollar credit provides an incentive for private developers and investors to provide low-income housing. By reducing a developer's federal tax liability, or by selling tax credits to investors, the program can help cut the cost of development.
The program also can be lucrative for developers, which can earn up to a 15 percent fee on the project cost.
Applications are due every year in November. The IHCDA in the last round received 54 proposals for projects throughout the state, including 11 in the Indianapolis area, seeking a total of $42.4 million in tax credits.
The distribution of tax credits typically draws about 50 applicants annually, Executive Director Jacob Sipe said. But with just $15.1 million available—an amount based on population—many low-income projects simply don't get built.
"When you can only [finance] one out of three applications, and you get 50, you can only do so many projects," Sipe said.
The need for more affordable housing in Marion County is particularly pressing, according to the Washington, D.C.-based Urban Institute.
Of the 100 largest counties in the nation, Marion ranks 64th based on affordable units available—19.6 per 100 "extremely low-income" renter households. The amount pits Marion well below other large Midwestern counties such as Hamilton (Cincinnati), 15th; Jefferson (Louisville), 19th; Wayne (Detroit), 45th; Cook (Chicago), 47th; and St. Louis, 59th.
The national average is 28 units per 100 households, said Erika Poethig, the Urban Institute's director of urban policy initiatives.
Reasons for the dearth of affordable housing in the Indianapolis area vary. Among the biggest factors: The state's low cost of living and high home ownership rate give little incentive for builders to construct affordable housing units, Sipe said. In addition, no local or state funding exists, making the state totally reliant on federal money.
The relatively low cost of housing locally is "great, but that doesn't mean the housing that people always live in, that's affordable, is decent and safe," he said.
Noblesville resident Marcus Ploof has experienced firsthand the challenges of finding quality affordable housing.
His 27-year-old son, Aaron, was diagnosed with Asperger's syndrome as a child and suffered a schizophrenic attack after graduating from Anderson University with degrees in English and theater.
Aaron became dependent on his parents, was unable to work, and was forced to move back home with them, Ploof said. His son has improved the past four years to the point that he now works part time as a night stocker at a Meijer store and is ready to live on his own again.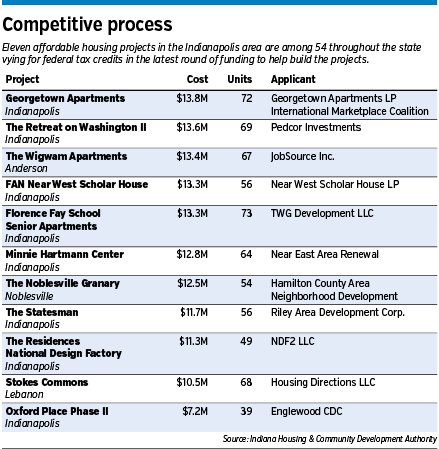 After a two-year search, Aaron is set in January to move into the Roper Capstone apartments in Noblesville.
"There are a certain amount of units set aside for low-income residents, but they are taken by people who never let go of those because they know they'll never find another one," Marcus Ploof said. "Basically, they have to die before something becomes available."
There's a chance the amount of low-income housing in the county could fall even more, if just slightly.
In the crosshairs is Section 8 housing built with federal funds and reserved for the poorest households that receive a government stipend to pay rent. That's different from affordable housing for renters who pay based on income.
Of the more than 1.3 million units of Section 8 housing built nationally, roughly 30 percent of those units could be converted to market-rate units due to affordable contracts set to expire at the end of 2017.
In the Indianapolis area, contracts are set to expire at six housing projects, including three in Indianapolis. But none of the three are in gentrifying neighborhoods, where the possibility of a conversion to market rate is greater.
Most of the affordable contracts nationally are likely to be renewed, as only about 8 percent of expiring contracts typically are converted, Poethig at the Urban Institute said. Still, the issue is concerning for the organization.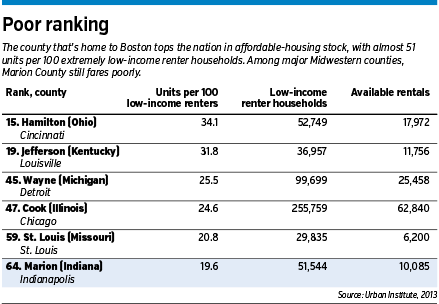 "Because of the demand for rental housing, and it's only growing, we're unlikely to see the same percentage of home ownership," she said. "So you have speculators that will make them market-rate rentals because the demand is there."
Most of the units at risk were built from 1974 through 1983. The trend now, at least with tax-credit projects, is to include both affordable- and market-rate units to attract a more diverse population.
In Indianapolis, Insight Development Corp., the development arm of the Indianapolis Housing Agency, in early December completed its $24 million Millikan on Mass project. It includes 64 new market-rate apartments and 61 affordable units that wrap a major renovation to the existing Barton Tower and its 246 affordable apartments.
In addition, the downtown Penn Street Tower and 800 North Capitol Apartments, both TWG Development LLC projects, include a low-income component.
Insight might add more affordable housing downtown and is turning its attention to Lugar Tower, where it plans to develop vacant property fronting East Street. Insight is in the early planning stages and is determining whether the project should be affordable or market rate; it's even considering condominiums.
Still, it's doubtful any new projects will put much of a dent in the city's need for more low-income housing, Insight President Bruce Baird said.
"We have a long waiting list for our sites."•
Please enable JavaScript to view this content.