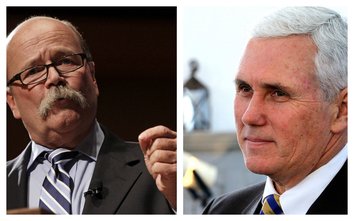 Republican Gov. Mike Pence might appear wounded by shrinking approval numbers, but he's entering what's sure to be a tough gubernatorial election year with a significant fundraising edge over his Democratic opponent, John Gregg.
Both candidates announced their 2015 fundraising totals Monday, with Pence out-raising Gregg by $1.4 million. Pence raised $5.1 million in 2015, with more than $3.5 million in contributions in the second half of the year. Gregg raised $3.7 million last year, with $1.97 million coming in since July.
The governor is sitting on about $6.8 million cash on hand compared to Gregg's $3.5 million cash on hand.
"There is no question that having a 2-to-1 cash-on-hand advantage over our opponent is an encouraging sign of momentum," said Marty Obst, executive director of Mike Pence for Indiana, in a written statement. "We are grateful by the support and are just getting started."
Despite Pence's apparent fundraising lead, Gregg campaign spokesman Jeff Harris said the Democrat's supporters should know it's "a completely different race" than it was four years ago.
Political observers agree Pence has been hurt by several controversies in the state, from the national dust-up over the Religious Freedom Restoration Act to the revelation that he planned to spend tax dollars on a state-run news service that would compete with local media, which drew unfavorable comparisons to Soviet Russia and China.
Pence had a 47 percent approval rating in a November WISH-TV/Ball State University poll, a 15 percentage-point drop from his performance in the same poll in 2014.
"Mike Pence has shown his hand—that he's an ideologue and he's failed at his job as governor," Harris said. "Hoosiers from all over the state are contributing to John, which is why this race is going to be so competitive."
Gregg's team showed significantly better numbers than it had at this time four years ago during Gregg's first match with Pence, in 2012. Gregg's campaign raised $1.7 million in 2011.
"This is another sign of the strength and momentum behind John Gregg's candidacy," said Gregg's campaign manager, Tim Henderson, in a written statement.
Neither team released donor information, which is due to the Indiana Election Division later this week. But some of Pence's largest contributions in the second half of the year include $95,000 from Ohio-based Chagrin Executive Offices; $75,000 from Anthony Moravec, the owner of famed Columbus ice cream shop Zaharakos; and $50,000 from New York-based prominent Republican Charles Joyce, according to earlier filings with the election division.
Gregg has earned big contributions over the past six months from several unions, including more than $100,000 each from IBEW and the Indiana State Teachers Association.
Neither team has spent much so far in the way of paid media. Neither Gregg nor Pence has run any TV or radio advertisements .
That is sure to change shortly as focus turns to the gubernatorial race, although both teams are keeping their strategy close to the vest.
Pence campaign spokesman Robert Vane said he could not elaborate on a timetable for paid media ads.
Henderson, the Gregg spokesman, would only say that it would use "all avenues" of media to communicate with voters.
 
Please enable JavaScript to view this content.