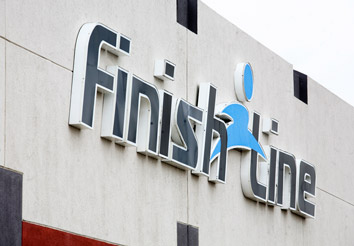 The Finish Line Inc. said it will close 150 stores over the next four years and replace its CEO early next year after losing $32 million in sales in its latest quarter due to supply-chain problems.
The Indianapolis-based athletic apparel retailer said Thursday morning that President Sam Sato will succeed Glenn Lyon as CEO, effective Feb. 28. Lyon, who has been CEO since 2008, will continue to serve as executive chairman of the board through Dec. 31 before becoming non-executive chairman.
The company did not identify any of the stores it plans to close, but said about 20 of the closings could take place this year. Finish Line operates 617 traditional stores in malls and 394 smaller stores in Macy's department stores. It also operates 73 Running Specialty shops.
"We are rigorously looking at all opportunities to strengthen every component of this enterprise," Lyon said in a written statement. "We are confident that the transformational changes we are making will positively impact our customer connections and lead to increased earnings power and greater shareholder returns for years to come."
Lyon attributed the supply-chain disruptions to the implementation of a new warehouse and order-management system.
"Specifically, in October we began experiencing issues flowing fresh inventory into our stores as well as fulfilling online orders as the new system was unable to process freight at volumes necessary to support our sales plans," he said.
A tax benefit trimmed the company's overall loss to $21.8 million, or 49 cents per share, for the quarter ended Nov. 28, compared with a profit of $2.6 million, or 5 cents per share during the same quarter in 2014.
Same-store sales, a key figure for retailers that considers stores open at least a year, fell 5.8 percent. After fixing the supply-chain problems, same-store sales in December increased 6.2 percent, Finish Line said.
Revenue decreased 3.5 percent, to $382.1 million.
Finish Line also said that it expects to improve the profitability of its stores by closing up to 150 locations, or 25 percent of its stores, over the next four years. The stores targeted to close produce average annual revenue of $1 million, a portion of which the company expects to recapture at nearby locations and through digital sales, Finish Line said.
Company shares were down 8 percent in late-morning trading, to $17 each, after falling by as much as 18 percent earlier Thursday.
 
Please enable JavaScript to view this content.