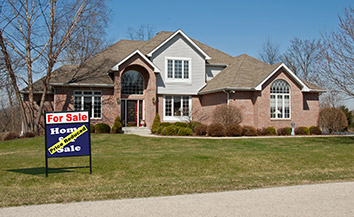 Sales of existing homes in the Indianapolis area rebounded by 8 percent in 2015 and experienced their most robust performance since before the Great Recession, real estate agency F.C. Tucker Co. said Wednesday morning.
The number of signed sale agreements—also known as pended sales—in the nine-county area rose to 31,312 in 2015, up from 28,987 in 2014, Tucker said.
The 2014 figure represented a dip from 29,302 in 2013. And the latter was the best performance for central Indiana existing home sales at least since 2005, according to Tucker records dating back to 2005, when the number of pended sales was 31,298. Further historical data wasn't immediately available.
All nine counties recorded increases in pended sales for 2015, led by Marion with a 10.8 percent surge that pushed sales from 12,045 to 13,341.
In terms of total homes sold, the next big gainer was Hamilton, where an additional 382 homes pushed the 2015 total to 6,867. In terms of biggest percentage increase, Shelby won out with a 12.9 percent jump from 465 pended homes to 525.
Sales rose 8.2 percent in Johnson County to 2,760, and 5.4 percent in Hendricks County, to 2,870.
December's pended home sales were just part of the larger favorable trend, with area sales agreements rising to 1,645 for the month, a smidge higher than the 1,636 from December 2014.
Average sales prices in the area rose 4.4 percent in 2015, to $184,690, compared with $176,862 in 2014.
Hamilton County had the highest average sales price in 2015, at $278,163, an increase of 3.9 percent.  Marion County saw a 6.8 percent increase in average price, to $146,379.
The biggest increase occurred in Madison County, where sale prices jumped 9.3 percent, from $86,621 to $94,656. Sales prices rose in all counties expect Boone, where they dropped 3.8 percent, to $270,894.
Jim Litten, president of F.C. Tucker Co., expected home sales in 2016 to mirror those in 2015, although rising interest rates and home prices could impact sales.
"We're optimistic that home ownership is still appealing to the majority of millennials, as reported by the National Association of Realtors, which indicates 94 percent of current renters younger than 35 want to buy a home," Litten said in a prepared release.
The inventory of available homes in the nine-county area dropped 8.7 percent in December, to 8,471, from 9,274 in December 2014. Marion County had 4,019 active listings in December, down 8.8 percent, and Hamilton County had 1,368, down 8.1 percent.
One home priced greater than $2 million changed hands in December; three were priced between $1 million and $2 million; and 65 were priced between $500,000 and $1 million.
 
Please enable JavaScript to view this content.