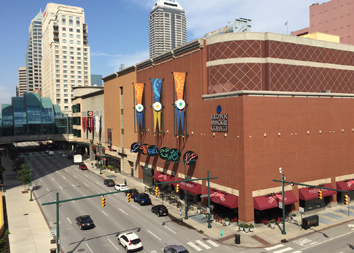 Two more third-floor retailers are leaving downtown's Circle Centre mall at the end of the month.
Johnston & Murphy and the Yankee Candle Co. both plan to close their stores, IBJ confirmed Wednesday, joining Gap, Gap Kids and the American Greetings card shop as the mall's latest casualties. IBJ reported Dec. 8 that those three stores plan to close this month.
Johnston & Murphy is an original tenant of Circle Centre, which opened in 1995. The 165-year-old retailer of footwear, apparel, leather goods and luggage is owned by Nashville, Tennessee-based Genesco Inc. and has 168 stores overall. Its only other Indianapolis-area store is at The Fashion Mall.
Ownership of Yankee Candle Co. has changed hands several times since its founding in Massachusetts in 1969, with the most recent sale to Rye, New York-based Jarden Corp. for $1.75 billion in 2013. It has 575 stores worldwide and $8.3 billion in annual revenue.
Yankee Candle also has metropolitan-area stores at Castleton Square Mall, Greenwood Park Mall, Clay Terrace in Carmel, Hamilton Town Center in Noblesville, and The Shops at Perry Crossing in Plainfield.
Circle Centre landlord Simon Property Group Inc. declined to comment on the closings.
The departures will leave an abundance of space to fill on the mall's third floor. Gap occupies a large chunk of space, as did Gap Kids, which already has cleaned out its space. The two stores also were among Circle Centre's original occupants.
The American Greetings shop will shut its doors after more than 13 years in the mall.
Simon has filled other vacancies on the third floor in recent months. The N Dulge clothing store has taken the third-floor space left by Wet Seal a year ago. Freestyle Clothing filled the former Body Central space on the third level. Another third-floor space was filled by #gifts.
Another store, The Outpost, which features "locally produced goods," opened late last year on the second floor but already has closed. A sign on the door says management is "confident that Outpost will return in some form in the near future."
Simon manages the mall but owns just a 15 percent stake. The rest is owned by about 20 local companies that pumped $75 million into the $320 million project in the early 1990s.
Circle Centre's occupancy slipped in 2014, but both profit and revenue grew. Non-anchor retail occupancy for the mall declined from 90.5 percent in 2013 to 89.5 percent last year, Simon said in its latest annual operating report to the city.
Occupancy figures for 2015 should be available in May.
 
Please enable JavaScript to view this content.