It was not a great night for the young Center Grove coach. The Carmel lead was growing and, try as he might—standing, clapping, turning to reinforce a message to his bench after a good play, the scoreboard flashed bad news.

"I take a lot of the losses as hard as the players, if not harder," Zach Hahn had said at halftime of the junior varsity game. He didn't have much time to chat. Not many varsity coaches sit with the JV team, but he does, intending to build Center Grove from the ground up. "We have to learn as a program; you have to have a chip on your shoulder every night."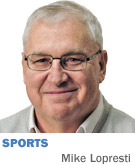 Zach Hahn? Another one of Brad Stevens' guys. The last time a lot of us saw him, he was wearing No. 3 for Butler. A role-playing Bulldog off the bench for two national runners-up, in there to crank up a 3-pointer or two. Remember the pair he hit to keep Butler alive against Florida in the Elite Eight? Or the bomb he buried against Duke? Can it really be five years since those days?

"Time goes by fast," said Hahn, who now has his own varsity team to prove it. He took over Center Grove last season—after three years as a Ben Davis assistant—and went 13-10. The Trojans were 5-6 this season through Jan. 12. He wants a better record one day, but for now, is having the time of his life. Just like he knew he would way back, when he looked at the men teaching him and decided where his road would one day go.

"I knew that my coaches have always been a big influence in my life. I always respected them, and wanted to be like them, and appreciated what they did for me," he said. "I was just born and raised playing basketball. For me, it was an easy transition because they taught me so much, and I felt like I'd be able to lead some other young kids."

So how much of Stevens is in the coach for Center Grove?

"I don't know. Brad's really hard to emulate because he's one of the top-of-the-line guys. He does everything right. I'd like to think I picked up some of the things. What Coach Stevens did at Butler was recruit guys who were winners and thought only about winning. There was never a time we doubted ourselves, so for us, [Final Four trips] were a realistic goal. If I said we didn't believe we could do it, it would be a lie.

"I just learned so much about how to do things the right way because of that."

From afar, Stevens watches with pleasure as his former players build their lives. The Center Grove folks called him when they were considering Hahn, asking if their candidate would be up to the task at such a tender age.

"The one thing that I shared is, Zach's crazy, in a good way. He's absolutely been fearless," Stevens said over the phone from a Boston Celtics road trip.

"That's allowed him to shine and play on the biggest stage in basketball. You look at some of the games he played in: He was overmatched in some ways physically, but his desire and his grit and his skills because of his hard work gave him a chance to perform. I think all those qualities, with the exception of shooting the ball—he can't shoot anymore, he has to find someone else to do that—will serve him well."

Hahn doesn't talk much to his own players about the Butler days. Not that he doesn't cherish those times.

"More than anything, being in the locker room after the game," Hahn said of his favorite memories. "It's hard to describe the emotions and feelings that you have. You can't take away a locker room, and I think that's what makes sports so special. When you get around the right group of guys, you understand that."

But now he has his own guys, with their own locker room. Who has time to hear about the Connecticut game? "I like to focus on the now and what we're going to do in the future, and try not to dwell on the past too much."

That past includes scoring 29 of victorious New Castle's 51 points in the 2006 Class 3A state championship game. It was only 10 years ago, so he's still young enough to go out and scrimmage with his team.

"Maybe once or twice, that's it," Hahn said. "Bad knees. You get older, I've learned that."

He's learned a few other things, too. The first couple of trips around the block as a varsity coach can be an education.

"For me, the biggest thing is, I understand that a season is a long time," Hahn said. "It's a journey. It's a process. One loss doesn't ruin your season; one win doesn't make your season. So you're never as bad as you think you are and you're never as good as you think you are. It took me a little bit of time once I was a head coach to understand that."

He's a Center Grove man now, right down to the red tie. But he will always be part of Butler, and his group of Bulldogs will always have a special bond. Which made it so hard, as the news grew worse and worse about Andrew Smith.

"I roomed with him for one of the seasons on the road and we became really close. Andrew never once batted an eye. He continued to fight. He never said, 'Feel sorry for me.' We think about him all the time."

For a moment, Zach Hahn was back at Butler. But the second half was starting soon. So, maybe some parting words about this coaching business?

"I absolutely love it. I love the community, I love my team."

Sounds like one of Brad Stevens' guys.•

__________

Lopresti is a lifelong resident of Richmond and a graduate of Ball State University. He was a columnist for USA Today and Gannett newspapers for 31 years; he covered 34 Final Fours, 30 Super Bowls, 32 World Series and 16 Olympics. His column appears weekly. He can be reached at mlopresti@ibj.com.