Hops & Fire (1259 N. State Road 135, Greenwood) comes from the folks behind Barto's Concessions, a company with more than 20 years of Indiana State Fair experience.

But don't go to the eager-to-please new pub and eatery looking for deep-fried sweet corn or country-fried bacon or other fairground fare. Hops & Fire takes its kitchen and bar offerings more seriously. It's got a lineup of 30 craft beers on tap—including the company's own House Ale and American Ale—and a menu that makes a strong effort to stay rooted in the familiar while making a grab for the creative.

We visited on an evening where a few filled tables quickly progressed into a crowd, with large parties and a lively bar crowd.

Our starters were strong and satisfying. Sweet 'n' Spicy Pickles ($7) featured fresh cucumbers pickled in-house and served soaking in a mason jar. Hops & Fire Pulled Pork Nachos ($10) went above and beyond standard bar versions where shavings of pork often attempt to justify the dish's name. Here, big chunks of smoked pulled pork topped a sizable long plate of fresh fried corn tortillas with very noticeable pickled jalapenos prevalent along with pico de gallo, fresh avocado and barbecue spice.

Pale Ale Lobster Roll ($17) got a bit lost in its pretzel hoagie roll, but forking the lobster—sauteed in garlic and basil butter, deglazed with pale ale beer—brought pleasure. Fresh greens, pickled onions and tomatoes either added or padded, depending on your perspective. Crispy Almond Coated Grouper ($22), battered and dredged in sliced almonds, pan fried and oven-varnished with mango salsa, was working a little too hard without all of the taste working together.

The most successful of our entrees was the simpler Hops & Fire Chicken ($14), which found a pair of 4-ounce breasts grilled and smothered in a peppadew pepper cheese sauce with caramelized onions. I wouldn't object if the sauce found its way into a 2016 State Fair item. Just a suggestion.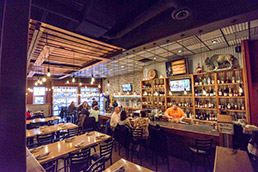 The bar side of Hops & Fire offers 30 craft beers on tap. (IBJ photo/Eric Learned)
All entrees come with a pair of sides, all fairly simple (sauteed veggies, roasted red skin potatoes, etc.) and a choice of a house, Caesar or chopped Side Kick Salad (which independently run $5). Not only is it a nice touch, but ours proved to go beyond the usual iceberg and tomato, with smoked Gouda in the house version and white anchovy in the Caesar. Desserts are made in-house, but we didn't save room.

Responsive service included sincere "what-could-we-have-done-better" questioning at the end of the meal, clearly indicating a desire to grow a strong local customer base. So far, Hops & Fire seems to be hopping in the right direction.•