Westfield officials have finally chosen a design—a series of modern, glass-and-stone structures with walking paths and bridges—for Grand Junction Plaza, a project that's already been more than seven years in the planning.

But construction of the downtown park is still years away because officials haven't yet divined just how they'll pay its $25 million price tag.

Burtron
"I think it's important for us to emphasize," said Westfield Chief of Staff Todd Burtron, "this is a slow, slow process."

Already, the city has committed to investing more than $5 million in the proposed park and a nearby street project. The city is paying those costs in cash. But funding the rest of the project will take bonds backed by tax-increment-finance districts. And maybe donations, too.

Cook
Mayor Andy Cook has repeatedly said the budget for Grand Junction Plaza is $25 million, and the city administration is confident it will stay within that budget even if it means altering the project's time line or eliminating elements.

"We won't really know true costs until we get through the construction-document phase," Burtron said.

Unlike Grand Park Sports Campus, which the city pushed to develop quickly, officials are taking their time on this massive project, whose discussions began back in 2008.

Initial designs weren't unveiled until about a year ago, and a final design was presented just this month. Construction might not start until 2017.

"I think it is fair to say we're looking at probably another three years—maybe even four—before this thing really gets in its final state," Burtron said.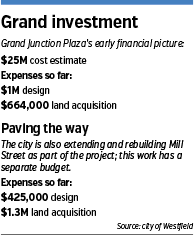 As designed currently, Grand Junction Plaza would include four quadrants that would together feature a cafe, a sit-down restaurant, space for an outdoor ice skating rink or public events, a great lawn and stage for performances, and an amphitheater and an open meadow. A system of trails and bridges would connect the four parts of the park.

"We can control design elements. … Maybe we delete a feature, maybe we delay it years down the road," Burtron said. "The general sense here on this project is, we don't want to overburden and extend ourselves in a financial respect."

Expenses to date have included $664,000 in property acquisition, $1.72 million related to reconstructing and extending Mill Street, and close to $1 million for Grand Junction designs—although the city is under contract to pay a total of $3 million for design work through the rest of the year.

Burtron said no debt has been issued so far.

In 2011, the city started negotiating with landowners and purchasing parcels for the plaza. Four properties, accounting for about 1.4 acres, are still needed, but no cost estimates have been determined.

The city paid Philadelphia-based Land Collective close to $500,000 for the schematic designs, which were made public about a year ago, then agreed to a $2.5 million contract for the design development, advance designs and construction documents.

Payments are made monthly to the design firm led by David Rubin. Of the contracted $2.5 million, $1.9 million goes to sub-consultants, including New York-based HWKN, Indianapolis-based Ratio Architects and Toronto-based Bruce Mau Design.

"We don't have separate contracts," Burtron said. "It's kind of a one-stop shop."

According to the payment schedule, Westfield owed $500,000 through this month. The contract continues through the end of 2016. It does not include the bidding or construction phases of the project, although Burtron said it's possible the city will continue to work with Rubin until the plaza is complete.

"I'm sure he'll stay involved in the project," Burtron said. "We've been conscious not to buy more than what we need."

Revenue from two TIF districts could be used to fund construction, but the city is also considering donations and sponsorships from the business community and residents. Donors could have their names engraved on designated park elements.

"In my experience, naming opportunities are very helpful to recognize and encourage donations, but the naming opportunities are not the main motivator," said Angela White, senior consultant and CEO for Greenwood-based Johnson Grossnickle and Associates. "The main motivator is the project itself—the need and the vision behind the fundraising."

The six-acre plaza is within the Grand Junction TIF district, which includes close to 600 properties. But most haven't seen an increase in assessed value since the area was designated by the city in 2009—and TIFs rely on that additional value to produce revenue.

Limited revenue means a limited ability to make bond payments.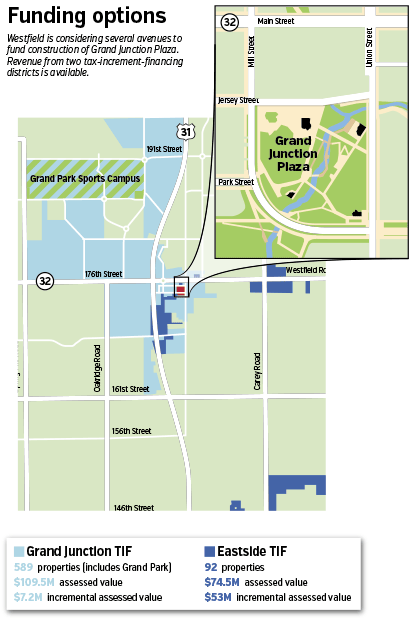 Only 11 properties in the Grand Junction TIF are adding incremental value in six-figure amounts. Altogether, the TIF district has $7.2 million in incremental assessed value, according to the Indiana Department of Local Government Finance.

The Eastside TIF district is adjacent to the future plaza, making it another funding option.

Several TIF experts said projects funded with TIF dollars are typically located within the district. But they can be outside the boundary if they directly serve or benefit the TIF the funds are drawn from.

It's unclear whether the city could use funds from multiple TIFs for the project.

"Certainly, that was not the original idea, but things have gotten incredibly creative with TIF," said John Stafford, former director of the Community Research Institute at Indiana University-Purdue University Fort Wayne.

The Eastside TIF, established in 2007, has 92 properties with a total $53 million in incremental assessed value.

Nearly 20 commercial parcels are contributing more than $1 million each in incremental value. The biggest property value increase is the land where the Kindred Transitional Care and Rehabilitation facility sits, which is directly north of the new Fresh Thyme Market grocery store, Ricker's gas station and a 21st Amendment liquor store.

The Eastside TIF is already funding the payments on a $7.4 million bond the city issued in 2009 to fund a fire station, stormwater detention project, first phase of the Midland Trace Trail, and streetscape improvements on South Union Street. But as long as the market is willing, a municipality can have multiple bonds attached to the same TIF district.

"Any debt has to prove to the market that the revenue to cover the debt will be there," said Drew Klacik, senior policy analyst for the Indiana University Public Policy Institute. "The higher the risk, the higher the interest rate."

Cook has suggested the city will look to the Eastside TIF for the Grand Junction plaza financing, and Burtron confirmed that's one option the city is exploring. He said bonds will have to be issued regardless of what revenue is offered to back the debt.

"But we haven't even gotten into how we're going to construct the financing for this," Burtron said. "We get one time to do this right—that's not just design, that's financially as well. We want the value to far exceed the price."•