Don't expect to find any iPods or other electronic gizmos in Danny Lindsey's Greenwood music store. He can point to rows of compact discs, but said he makes less than 5 percent of his revenue from those.

"Vinyl is where it's at," Lindsey said, as Kiss' "Asylum" spun on a turntable in his 1,300-square-foot store, Vinyl Rescue Project, about a mile south of the Marion County line.

Check that: vinyl?

That's right, old-school vinyl records compose 95 percent of Lindsey's sales, which are growing at better than 30 percent annually. Vinyl Rescue Project also sells a line of six turntables ranging in price from $69 to $500-plus.

A number of local music stores are reporting dramatic sales growth in vinyl records, in both 7- and 12-inch format. For you old-timers, that's 45s and 33s. A few 78s also are for sale.

Big-box stores like Best Buy and Urban Outfitters also are jumping on the trend—stocking an array of songs and artists on vinyl—as are online outlets including Amazon, which reported selling more turntables this Christmas season than any other type of audio equipment.

Independent mom-and-pop retailers are leading the way, according to New York-based Nielsen Entertainment, with 45 percent of vinyl sales in 2015.

Nielsen tracks only new vinyl record sales, but local music shop owners say used albums make up 40 percent to 60 percent of the records headed out the door.

And while sales for compact discs and digital music have been mostly flat or even decreasing the last five years, vinyl record sales have grown 325 percent, according to Nielsen. That trend is reflected in local stores.

Five years ago, vinyl accounted for 25 percent of the sales at Indy CD & Vinyl in Broad Ripple. Now, the medium—which dates back more than a century—accounts for nearly 60 percent of sales.

"It's crazy. We were all about to wave the white flag seven or eight years ago, then bam!" said Indy CD & Vinyl General Manager Mike Contreras, 43.
Vinyl Rescue Project owner Danny Lindsey says he has customers as young as 12 at his Greenwood record store, as well as baby boomers. Like many record store owners, he's seen vinyl sales boom. (IBJ photo/Eric Learned)
It's a recent phenomenon. In 2007, only 1 million vinyl records sold in the United States, according to Nielsen.

The business was so bad, Rick Wilkerson closed his Indianapolis shop, Missing Link Records, in 2008.

"At the end, with the recession and the constant pressure from MP3 players and electronic music, we weren't selling anything in vinyl," said Wilkerson, 62. "We were completely upside down."

By 2010, U.S. vinyl sales had crept up to 2.8 million. In 2013, it grew to 6.1 million, swelling to 9.2 million in 2014 and nearly 12 million in 2015.

Somewhere along the line, Lindsey said, "vinyl became cool again."

Maybe it's the "warm" sound quality—with higher highs and lower lows—that vinyl captures, local record store owners surmise. Maybe it's the cool artwork or the fact that records are suddenly considered hip.

"An album is tactile. It's something you don't just listen to, but see, touch and feel," said Danny Schmeltekop, manager of Luna Music at 5202 N. College Ave.

Whatever the reason, it's making cash registers in the few vinyl record stores left in this city sing.

Wilkerson, who reopened his music store as Irvington Vinyl on the city's east side in 2012, is seeing year-over-year growth of better than 30 percent. Some local record store operators are seeing year-over-year vinyl sales growth in the 50 percent range.

"There are days when we have new releases come in that we have lines out the door," said Lindsey of Vinyl Rescue Project.

Last April, during Record Store Day—a national event organized by a coalition of music store operators—Lindsey said he had a line of people 20-plus deep for "six straight hours."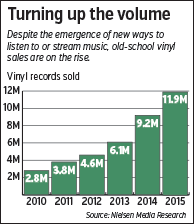 Surprising audience

The people amping up vinyl sales are as surprising as the trend itself.

"Believe it or not, we see a lot of teens buying vinyl," Lindsey said. "Some of my best customers are as young as 12 years old. We also see a lot of families—baby boomer parents bringing in their kids. It's become a great way to connect the generations."

The vinyl-buying audience of today isn't as male-centric as it was two or three decades ago, record store operators said.

"As much as 40 percent of my vinyl customers are women," said Wilkerson, who has 23,000 vinyl records in his store. "In the '70s and '80s, it was 90 percent guys."

Not even music fans themselves seem quite certain what's driving them to the medium.

"I really don't know how to explain the trend to vinyl," said 19-year-old Indianapolis resident Nate Schoolcraft during a recent visit to Indy CD & Vinyl. "All I know is, vinyl is hip, it's cool, it's retro and it's funky."

Schoolcraft seems to be enjoying the things audiophiles of the 1970s and 1980s gravitated toward.

"I love dropping that needle on the record," he said. "It's just a unique experience. Hearing that pop and the start of the music is like a ritual for music lovers."

Schmeltekop, the 34-year-old Luna Music manager, has been collecting records for more than a decade. He said young vinyl fans are discovering that "there's more to music than downloading songs on your iPhone."

"Young people are discovering that listening to music is an experience. It's something you do intentionally. And that resonates with vinyl," he said. "We find this is a brand new format for young people, and for older people it's about reliving your youth."

Even with all the growth, vinyl records account for only 2 percent of music sales, according to Nielsen. There were125.6 million compact discs sold in 2015, according to Nielsen, not to mention downloaded digital music.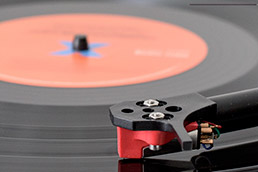 Vinyl lovers say they take comfort in the ritual of lowering the needle onto the album and hearing the pop just before the music starts. (IBJ photo/Eric Learned)
CD sales, though, decreased 11 percent in 2015 and digital downloads were down 3 percent, according to Nielsen, while vinyl sales were up 30 percent.

"It's just a niche, but I can tell you I'm selling enough to easily pay my bills," Lindsey said.

Local record stores sell some used vinyl records for as little as a dollar or two. New releases generally cost $15 and up. Some new albums cost $50 or more. Indy CD & Vinyl, which has more than 10,000 vinyl records in stock, recently sold a vinyl record by popular folk musician Rodriguez—known as Sugarman—for $200.

David Bowie's new album, "Blackstar," costs at least $30 in vinyl and is sold out in many area stores. Bowie, 69, died this month. The reissued Beatles "White Album" and "Abbey Road" sell for $40 to $50.

"That's one thing people have to get used to. The price on some albums can be a little high," Wilkerson said.

"Abbey Road" is the top-selling vinyl record since 2010, at nearly 200,000 copies, according to Nielsen. Adele's new "25" sold 116,000 copies in the last two months of 2015 and is still selling hot, local record store owners said.

Hard to get

But another difficulty with vinyl, they said, is only about a dozen factories nationwide are stamping out new vinyl—with very old equipment—and it can take weeks or even months to get some records.

"If some of this manufacturing equipment breaks, they either have to go dig up another old piece of equipment for replacement parts or make a new part themselves," Wilkerson said. "Nobody's making these machines anymore."



Indiana was once home to more than a half dozen vinyl-record-stamping plants, including the goliath Columbia plant in Terre Haute and the RCA plant in Indianapolis. There are no such plants in the Hoosier state anymore; the closest are in Ohio and Michigan, store operators said.

In the good old days, record labels stamped 10 million-plus albums of major stars. In contrast, only about 200,000 copies of Adele's "25" were cranked out in vinyl. Some artists make fewer than 5,000 of their records in vinyl.

The smaller press runs mean the margins on vinyl are compressed.

"The margins are now 20 to 30 percent," Wilkerson said. "Back in the heyday of vinyl, margins were an easy 50 percent."

The genres of music selling hot in vinyl are varied. Rock is the biggest vinyl seller, according to Nielsen, accounting for 68 percent of sales. Nearly 18 percent of all physical album sales for rock were vinyl in 2015, up from 13.4 percent in 2014.

Led by Adele, Taylor Swift and Justin Bieber, pop more than doubled its contribution to vinyl sales, from 2.8 percent to 5.7 percent.

"I can't get enough Grateful Dead, Pink Floyd and Led Zeppelin," Wilkerson said. "And David Bowie, the Beatles and Bob Dylan are really coming on strong. But I sell a wide variety of vinyl, including a lot of early punk, new wave, alternative country and jazz."

The top 10 selling albums over the last five years come from an eclectic range of artists, like Mumford & Sons, Bon Iver, Jack White, Arctic Monkeys, Lana Del Rey and Miles Davis.

"That's the thing with vinyl. There's always something new to discover," Wilkerson said. "That's what's going to keep this growth trend spinning forward."●