With a primarily catering/takeout facility on West 56th Street and an ill-fated attempt at a food-court operation at Circle Centre, Jiallo's seemed such a familiar name that when Jiallo's African-Caribbean Cuisine (5130 W. 38th St., 870-3230) opened a sizable restaurant in late 2015, it slipped by my new-eatery radar.

That's my bad. Because the colorful, friendly spot is a welcome addition to the collection of spanning-the-globe restaurants known as the International Marketplace, aka Lafayette Square Mall area.

Hospitality was extended from shortly after we sat down, when our waiter informed us that a plate of complimentary Fried Plantains (normally $3.99) were on the way. I wouldn't count on it every visit (I suspect it was because, at the time, we were the only diners in the place), but it did set a positive tone, especially once we tasted them. In bite-size slices, the starchier cousin to the banana offered just enough resistance on the outside and delicious mushiness on the inside with no need for a dip. Have napkins ready for the Island Jerk Wings ($5.99/six, $9.99/12) though. Their tasty coating adhered to every available surface. Resistance to licking your fingers is futile.

Billed in the menu as the National Dish of Senegal, Tiebdjen ($13.99) had some similarities to Thieboudienne, which my searching indicated actually holds the national-dish title. Both have an ample supply of red beans and rice on the plate and a cabbage/carrot combo as an additional side. But missing was a sauce for the fish to have simmered in. What the dish did have were generous planks of fried catfish—which, while satisfying, made me wonder how the dish differs from its menu neighbor, simply labeled Catfish ($12.99 fried/$15.99 grilled).

Jerk Chicken ($12.99) offered a mound of poultry deeply darkened with Jamaican spices. It comes with two sides, which led us to Jollof Rice, a kind of African pilaf with a distinct tomato flavor. Ample warning came with the hot sauce. Other sides range from the conservative—Seasoned Fries—to the probably unfamiliar—Attieke, made from the cassava root.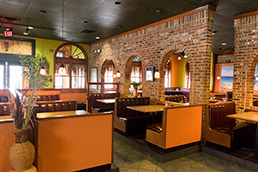 The roomy interior of Jiallo's offers a comfortable environment for Caribbean dining. (IBJ photo/Eric Learned)
One of a string of restaurants taking over discarded chains near Lafayette Road (see also Saigon, housed in a former Bob Evans), Jiallo's transforms what was once an O'Charley's. But this is more than just a matter of hanging new signs. Brightened with both paint and smiles, Jiallo's may be a bit wobbly in some of the details, but with take-home-more-than-you-ate-there portions and a commitment to please, it makes an impression—even if you go easy on the hot sauce.•