One of the most-powerful members of the Indiana Senate wants the state to buy the 102-acre General Motors stamping plant site on the western edge of downtown and turn it into an expansion of White River State Park.
Senate Appropriations Chairman Luke Kenley, R-Noblesville, wants lawmakers to allocate funding for the purchase when they craft the next two-year budget in the spring of 2017.
"For the long-term benefit of the state and Indianapolis, it's better to have the whole 100 acres and dedicate it to White River State Park," he said. "You only get one chance at a piece of property like this. It would be silly not to try to consummate that deal."

Merritt
Kenley's proposal would not necessarily derail the widely discussed plan to build a $30 million, 10,000-seat amphitheater on the eastern half of the property. He said he's open to using some of the land for a concert venue, but doesn't want any restrictions on the state's purchase.
"I think in the long run, it's best if the property is retained by the state for civic and a green space and cultural-type uses," he said. "The main thing is that we don't want to be obligated to do anything specifically. Let's let time help us make those decisions."
Government and community leaders have discussed myriad ideas for the site since the automaker shuttered the factory in 2011 after 80 years of operation and turned it over to the Michigan-based Revitalizing Auto Communities Environmental Response Trust, which is charged with finding new uses for former GM properties nationwide.
Mayor Greg Ballard's administration wanted to build a criminal justice center on the west side of the property but that plan unraveled after the City-County Council in June voted against considering a scaled-down version of the project.
Local developer REI Investments Inc. last year agreed to buy 51-1/2 acres on the east side of the property for the $30 million concert venue. It would build the project in partnership with White River State Park, Live Nation and the Indianapolis Zoo.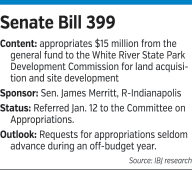 Los Angeles-based Live Nation operates The Farm Bureau Insurance Lawn at White River State Park, a temporary concert facility the new venue would replace. The zoo is a partner because it would gain overflow parking for its busiest days and gain the flexibility to eventually expand exhibit space into part of the current parking lot.
Construction of the amphitheater can't proceed without the state's blessing, however, since it hinges on the state's ponying up half the $30 million cost.
Kenley said he has discussed buying the site with Gov. Mike Pence and REI President Mike Wells. He expects the purchase price would be well under $15 million.
Under REI's plan, it would develop the venue, White River State Park would own it, and Live Nation would run it. Live Nation also runs Klipsch Music Center in Noblesville and the Old National Centre downtown.

Whitt
Wells is optimistic his development team can convince state officials the amphitheater would benefit downtown. He said he thinks he has the backing of the RACER Trust, an entity created during GM's bankruptcy to spur revitalization of no-longer-needed properties.
"RACER will not sell the land to anyone that doesn't have a financed project ready to go," he said. "Just buying it for a park, with the future unknown, would not be acceptable to RACER."
RACER's development manager, Bruce Rasher, declined to discuss details of his discussions with REI. But he said RACER considers specific criteria when it evaluates proposals from potential buyers.
He said in an email that "there is a clear expectation among our many stakeholders that RACER will seek buyers who have a concrete plan to invest in redevelopment that leads to jobs and other community benefits."
The White River State Park Development Commission supports both the state's purchase of the property and construction of the amphitheater, said Robert Whitt, the park's executive director.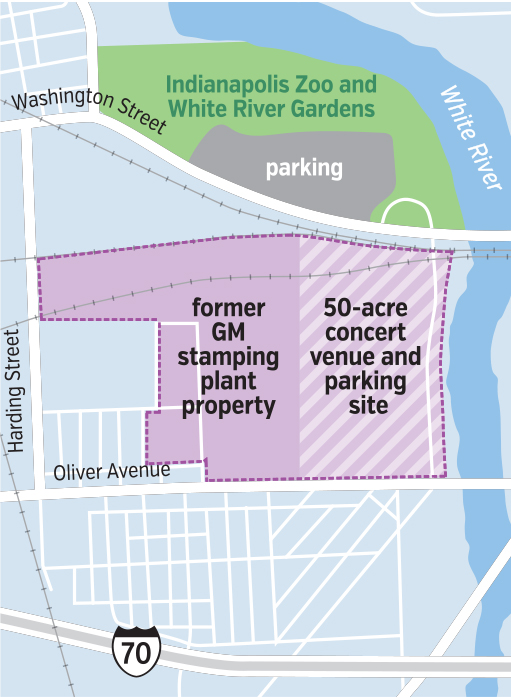 "There just aren't opportunities to acquire this amount of adjacent acreage in an urban area," he said. "In our minds, this is a once-in-a-lifetime opportunity for us."
Sen. James Merritt, R-Indianapolis, has introduced a bill this session calling for the state to appropriate $15 million for "land acquisition" and "site development." Kenley, though, doesn't intend to hear the bill because he wants to delay discussion until next year's budget-writing session.
Merritt said he knew his bill faced an uphill battle. He said he wanted to introduce it, anyway, to show RACER the state was serious in pursuing plans for the property.

Wells
"I knew there was a 1 percent chance it would get heard," Merritt said. "But I thought this was important enough to demonstrate interest and conversation, and just start laying it out that it could very well happen in 2017."
REI's purchase agreement for the proposed amphitheater property runs through the end of 2016. Wells is hopeful RACER will grant an extension to give the state time to explore options.
"If it takes another year to get it done, then I'm happy to hang in there," Wells said.•
 
Please enable JavaScript to view this content.