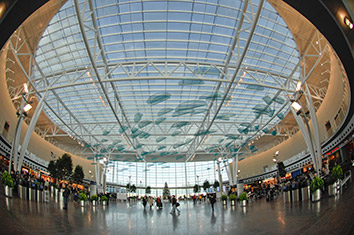 Airlines flying in and out of Indianapolis International Airport so far have canceled about 70 flights through Saturday as a major winter storm barrels down on the East Coast.
The cancellations include 30 on Friday—16 inbound and 14 outbound—and another 37 on Saturday, airport spokesman Jeff Dutton said Friday morning.
"We're getting cancellations from Charlotte to up north," he said.
The airport terminal was noticeably quieter than usual Friday morning with less passenger traffic, said Dutton, noting that the airlines gave passengers plenty of warning about the cancellations.
Blizzard warnings and up to two feet of snow are forecast for major cities such as Washington, D.C., and Baltimore, with icy conditions expected for cities to the south, like Charlotte.
Experts predict the weekend blizzard could rank among the top 10 in recorded history, in terms of snowfall to hit the region.
As of noon Friday, airlines nationwide had canceled nearly 3,000 flights while delaying another 3,900. Airlines so far have canceled about 2,800 flights on Saturday, according to flight-tracking service FlightAware.
The airlines are taking a wait-and-see approach for Sunday. Only 29 cancellations have been reported so far.
 
Please enable JavaScript to view this content.