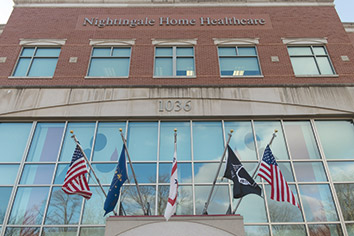 Carmel-based Nightingale Home Healthcare Inc. is trying to keep from being kicked out of the federal Medicare program for allegedly putting patients in "immediate jeopardy," according to documents in a bankruptcy reorganization case the company filed in December.
Nightingale, one of the state's largest home health care providers, won a temporary injunction on Jan. 25 preventing Medicare from immediately terminating payment for its services. That decision spared Nightingale from almost certain death, because 77 percent of the agency's nearly 900 patients are covered by Medicare.
In addition, the Indiana Medicaid program, which typically follows suit on any Medicare decision to halt payments, covers another 21 percent of Nightingale's patients.
The Centers for Medicare & Medicaid Services, the federal agency that operates the Medicare program, asserts that, in the fall of 2015, Nightingale staff put at least two patients in jeopardy of harm.
One patient, who had a urinary tract infection, received no visits from Nightingale staff for a month after his usual nurse went on medical leave, the Medicare agency said. He developed sepsis and was taken by ambulance to a hospital. He was discharged nine days later but returned to the hospital within 24 hours and died two weeks later.
A second patient was supposed to have his blood drawn for testing, but the agency said Nightingale staff members failed to show up to do so on several occasions. When staff members did show up, they often were unable to successfully draw blood, with one employee saying "she would have to have a refresher course in lab."
The patient ended up hospitalized with a solid swelling of a blood clot in his chest and measurements of blood coagulation at critical levels.
"Nightingale Home Healthcare failed to provide adequate care for its patients and was terminated from the Medicare Program because its actions constituted an immediate threat to patients' health and safety," wrote Jeffrey Hunter, an assistant U.S. attorney representing the Medicare program in the bankruptcy case.
Lawyers for the federal Medicare program based these claims on surveys conducted in October and November by staff at the Indiana State Department of Health.
Nightingale filed its bankruptcy case on Dec. 10, the same day Medicare decided to terminate reimbursements.
Wendy Brewer, an Indianapolis attorney representing Nightingale in bankruptcy, declined to comment. She also declined to make Nightingale President Dev Brar available for comment.
Mike Grubbs, another attorney representing Nightingale, said bankruptcy was the only way the company could challenge Medicare's decision, which it claims was based on incorrect reports of its patient care.

Dev Brar
"The findings are misleading and, in some cases, outright false," said Grubbs, a lawyer at the Indianapolis law firm of Barnes & Thornburg LLP.
Nightingale has filed an appeal of Medicare's decision with an administrative law judge, which is Medicare's process for reversing a termination of reimbursement. But Grubbs said those proceedings typically take nine to 12 months or more—too long for the company to be able to operate without Medicare reimbursement.
Nightingale also could apply for Medicare reinstatement, but that requires a six-month trial period during which it would receive no Medicare reimbursement. That, too, was not feasible for Nightingale.
So Nightingale sought relief in bankruptcy court. Initial filings listed $938,000 in accounts receivable, but less than $50,000 in actual assets.
The documents showed Nightingale's annual revenue was $14.8 million. They also noted that the company borrowed $350,000 from Brar to make payroll.
The federal Medicare program argued that bankruptcy Judge James Carr had no jurisdiction in the case. But he rejected that position and ordered Medicare to keep paying Nightingale until its appeal plays out.
Representatives for Medicare said they did not know whether the agency would appeal that decision.
Nightingale also is trying to get the Indiana State Department of Health to alter its survey reports. On Jan. 27, Nightingale met with department officials to ask for a reversal of its "immediate jeopardy" determination, but no decision was made.
Grubbs said the Health Department surveyors refused to credit Nightingale for paying a visit to the patient with the urinary tract infection because it was logged using software the department said could have been altered after the fact.
He also said Nightingale has recordings of numerous phone calls with the patient's wife that refute the Health Department's contention Nightingale was unresponsive to her concerns. "We have evidence to show the evidence they claim to have existed did not exist," Grubbs said.
Nightingale could have avoided termination by the Medicare program by submitting a plan to remove the "immediate jeopardy" concern. It submitted six such plans, before the last was finally accepted by the program and the state Health Department.
But then the Health Department conducted a second survey in early December. It found Nightingale had failed to ensure it was meeting the needs of 39 of 41 patients cared for by the employee on medical leave. It also found Nightingale staff routinely did not put physicians' orders into effect.
"The cumulative effect of these systemic problems resulted in [Nightingale] being out of compliance," department officials wrote in a Dec. 10 report that triggered the company's termination from Medicare.•
Please enable JavaScript to view this content.