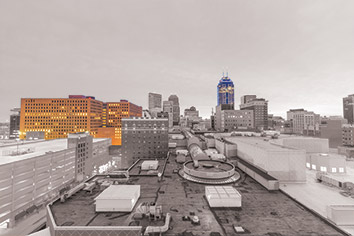 Two prominent Indianapolis office buildings are set to hit the market soon and should attract plenty of interest from out-of-state investors drawn to downtown's improving occupancy.
The 48-story Chase Tower and 16-story PNC Center are owned by Chicago-based Equity Commonwealth, which is unloading the buildings as part of a larger plan to exit secondary markets across the country, real estate sources said.
Chase Tower, the state's largest office building, might fetch more than $200 million—a price driven up by a nearly finalized deal that would boost sagging occupancy by making Salesforce.com a major tenant, brokers said.

Vollbrecht
The San Francisco-based cloud-computing software giant, which bought ExactTarget Inc. in 2013 for $2.5 billion, is expected to lease at least 200,000 square feet to accommodate its fast-growing Indianapolis workforce.
"Even though Chase has more vacancy than it's had, there is activity there," said Sam Smith, principal and chairman of Resource Commercial Real Estate. "From a reputation standpoint, it's arguably still the nicest complex in the city. It's the premier property."
Equity Commonwealth declined to comment on its lease negotiations with Salesforce and its plans to bring Chase Tower and PNC Center to market. The firm sprang from Commonwealth REIT after management was ousted last year in a takeover by billionaire investor Sam Zell.
It lists Chase Tower's occupancy at 83 percent, a figure closer to 68 percent when factoring in space vacated by Chase that's available for sublease, according to Cushman & Wakefield's latest Skyline Report, from September.
The skyscraper, developed by Columbus, Ohio-based Galbreath Co., opened in 1990. It originally was known as the Bank One Tower, but took the Chase moniker after the New York-based financial giant acquired Chicago-based Bank One Corp. in 2004.
Commonwealth REIT in 2012 paid $201 million for both the 905,000-square-foot tower and the connected 153,000-square-foot Circle office building, which gives the complex its 111 Monument Circle address.
The deal worked out to about $190 per square foot—the richest yet on a per-square-foot basis for a multitenant downtown office building. A Salesforce deal could propel the price even higher, said Mark Vollbrecht, who manages Chicago-based Zeller Realty Group's Indiana operations.
"It's certainly possible," he said. "It would cost well over $300 million to replace that building. So even if someone bought it for $200 a square foot, you're still talking a price that would be a discount."

Ehret
While PNC Center won't fetch near that amount, it still packs plenty of potential, brokers said. The nearly 650,000-square-foot building, downtown's fourth-largest office complex, is 95 percent occupied and houses the Hyatt Regency Indianapolis hotel, whose space is owned separately.
The building, at 101 W. Washington St., was constructed in 1977. Norfolk, Virginia-based Harbor Group International, in partnership with Commonwealth REIT, bought the office and hotel complex from a California pension fund in two transactions totaling $105.1 million in 2001.
The hotel since has changed hands, last selling in January 2015, when a joint venture of New York-based Silverpeak Real Estate Partners and Atlanta-based Davidson Hotels & Resorts bought it from Hyatt Corp. for $70.5 million.
The Hyatt's new ownership group has undertaken a $1.3 million renovation of the lobby, and next year plans to spend another $1 million to overhaul the second floor.
The improvements to the Hyatt should increase PNC Center's value, said Bill Ehret, principal and managing director of Avison Young.
"The PNC Center is very well occupied right now," he said, "and it doesn't hurt that the Hyatt has spent some money on the lobby."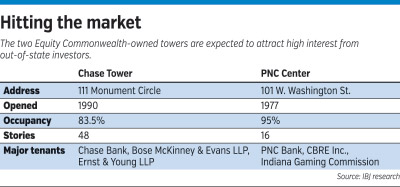 Commercial real estate firm CBRE Inc. manages and leases PNC Center and manages Chase Tower, with Jones Lang LaSalle handling leasing. Representatives of both firms declined to comment on Equity Commonwealth's plans.
Several downtown towers have changed hands the past few years.
Among them: the 36-story Regions Tower on North Pennsylvania Street, 30-story Market Tower on West Market Street, and 22-story Capital Center on North Illinois Street.
In addition, the 28-story BMO Plaza on North Pennsylvania Street owned by White Plains, New York-based True North Management Group hit the market in late September. Sources say it's under contract to sell to Chicago-based The Hearn Co., which owns the John Hancock Center, one of the Windy City's most recognizable office towers.
Real estate experts say the flood of out-of-state investors illustrates the strength of the Indianapolis office market.
"Even though we're considered to be a secondary market from an investment standpoint, we're a state capital and we have very stable office rents that have increased in the past 18 months," Smith at Resource Commercial said.
Downtown asking rents per square foot increased from $18.28 in the fourth quarter of 2014 to $18.82 at the same time last year, according to a CBRE market report.

Smith
CBRE also says downtown vacancy in the past year has dropped from 20.2 percent to 17.8 percent. But much of the improvement can be attributed to the Class B office market, which absorbed roughly 174,000 square feet, while pricier Class A buildings suffered a net occupancy decline of more than 135,300 square feet.
A big Salesforce lease could help reverse the trend, said Jeff Harris, president of NAI Meridian.
"That will be a major improvement for the downtown office [vacancy rate], by a point or a point and a half," he said. "It will allow [Chase Tower] to charge higher rents and will have a ripple effect on the other towers."•
Please enable JavaScript to view this content.