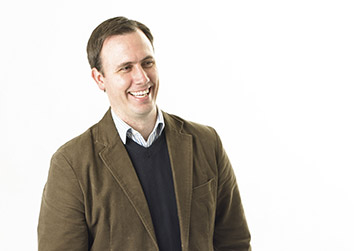 Aerospace Systems Engineering Specialist
Rolls-Royce North American Technologies Inc. (LibertyWorks)
At Rolls-Royce, Michael Armstrong has been the technical lead for many research and technology activities developing electrical power and propulsion systems, including work with NASA in developing hybrid electric and distributed propulsion systems for future air vehicles. He has written more than 20 published works and filed 13 patents—with three more in the works.
Right reading: Devouring a copy of "The Right Stuff" in high school helped solidify Armstrong's interest in science and, particularly, aerospace technology. At Brigham Young University for undergraduate work and Georgia Institute of Technology for his master's and doctorate, he dabbled in biomedical research, along with research on gas turbines and the crash-worthiness of automobiles, but gravitated to aerospace.
On a roll: Since joining Rolls-Royce in 2008, he's been an invited plenary speaker at the Cryogenics Engineering Conference/International Cryogenic Materials Conference, and a presenter at the SAE International Aerospace Standards Summit, the American Institute of Aeronautics and Astronautics Propulsion and Energy Conference. He was also a featured speaker for the Institute of Mechanical Engineers at a special conference on Disruptive Green Propulsion Technologies, as well as session chairman and speaker for the International Society of Air Breathing Engines conference in Korea.
QUICK FACTS
Age: 34
Hometown: LaCenter, Washington
Family: wife, Megan; children, Matthew, 6, Sadie, 3, and Jack, 1
Social media: LinkedIn is the only one he regularly uses.
Reading pile: journals, Aviation Week
Playlist: Imagine Dragons, Daft Punk, Capitol Cities, the Lumineers, Mumford and Sons, and classical piano
Team effort: Armstrong's proudest moments include seeing the demonstration of complex hardware systems he had a hand in developing. "These occasions represent the culmination of the united efforts of a team of dedicated technical experts," he said.
Shortened cycle: Compared to, say, electronics, aerospace is a long-cycle business. It can require many years of planning and foresight. To compress that time line, Armstrong co-founded the Rolls-Royce HIVE (Hardware Innovation and Venture Engineering) initiative for accelerated progression of technology through rapid demonstration and prototyping. The hope, according to Armstrong, is, "in six to nine months, we can provide evidence that might be acceptable for initial funding."
Seems like only yesterday: Armstrong notes that development of electric trains lagged the first trains by about 100 years. Ditto for cars. "We are right about that time for the transition from conventional aerospace to electronic technology," he said.
Patents pending: Would the general public be able to grasp any of his patents, or any that he's working on? "I'm working on an idea around anti-drone technology," he said. "We're pretty close to some interesting hardware coming out."
Sky traffic: So when are we getting flying cars? "You're probably looking at a dramatic change within the next 10 to 15 years," Armstrong said.•
Check out more 2016 Forty Under 40 honorees.
Please enable JavaScript to view this content.