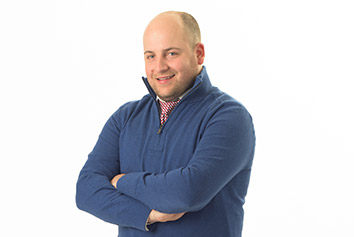 Director of Corporate Sales and Marketing
Indianapolis Indians
A former University of Indianapolis star pitcher, Joel Zawacki now is in the starting lineup of the Indianapolis Indians' front office, where his records have to do with attendance and corporate sales instead of strikeouts.
Numbers game: Since Zawacki joined the Indians' sales department eight years ago, the team has more than tripled sponsorship sales, to a projected $3.3 million this year—a record for the 113-year-old franchise. Entering the 2007 season, the Indians had $154,950 on the books from multiyear deals signed in previous years. Two years later, that number escalated to $723,750. This year, it was $1.7 million.
And the crowd builds: "We've been gaining a lot of momentum," Zawacki said of the Indians' six seasons of attendance increases and back-to-back attendance-breaking years. "And we're working together a lot more than we have in the past. There's a lot of synergy. And with downtown growing—new apartments and condos go up every day—we've reaped the benefits. Plus, we've stuck to our mission of affordable and memorable family fun."

Quick Facts
Age:
31
Hometown: Michigan City
Family: wife, Ellen; son, Jack, 1
Social media: Twitter, Facebook, Instagram and, professionally, "some stuff on YouTube."
Reading pile: sports journals and industry-related newsletters
Playlist: everything (country music, primarily)
 
No off-season: The work doesn't end when the infield is covered and the crowds go home. "My team is putting together budgets and marketing plans to present to the board in October and November," he said. "We're setting up entertainment and promotions for the following year. And on the sales side, we're working with corporate partners, getting together renewals for our plan holders, and selling tickets. The off-season is extremely busy around here."
Be true to your school: Zawacki serves on the board of the Leukemia and Lymphoma Society's Indiana Chapter (his mother is a survivor, diagnosed before he was a teenager), as well as the University of Indianapolis' Greyhound Club and the school's Kinesiology Advisory Board. "It certainly becomes more challenging now that I've got a little one at home," he said, "but the school has played a huge part in my success. I certainly enjoy giving back to them."
Glory days: Yes, he has gone out onto Victory Field and taken a few swings and visited the pitcher's mound. "It brings back a lot of memories," said the former Great Lakes Valley Conference All-American. "But my arm isn't what it used to be."•
Check out more 2016 Forty Under 40 honorees.
Please enable JavaScript to view this content.