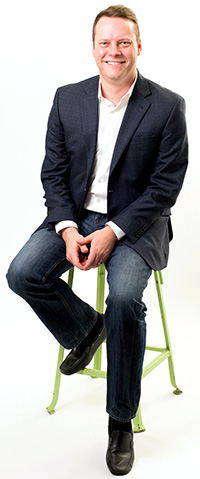 Director of Programming
WTTS Radio (Sarkes Tarzian Inc.)

Since 2002, Brad Holtz has overseen all programming, marketing and digital aspects of WTTS-FM 92.3. Beyond the airwaves, Holtz has led a partnership with two Indiana companies to create the live performance space Sun King Studio 92 powered by Klipsch Audio and has developed such programs as "Rock to Read" and "Rock on the River."

Music memories: Enamored with radio as a pre-teen, Holtz would have his mother take him to radio promotion events to meet DJs. While in high school and working at O'Malia's supermarket, he struck up a conversation with a WNAP disc jockey and learned the station was looking for weekend on-air talent. A quick trip to Radio Shack for a microphone and an at-home recording session produced a demo cassette tape that landed him a midnight-to-6 a.m. spot.

Turn ... turn ... turntables: No two days are alike. "Some days, I'm on the radio. Other days, I'm working directly with bands or artists. Others, I'm having lunch with clients. I enjoy a rather holistic role in our organization that goes beyond simply picking the songs and directing the DJs."

QUICK FACTS
Age: 35
Hometown: Westfield
Family: wife, Amy
Social media: Personally: "Mostly Twitter." Professionally: "I'm a news and info junkie and with WTTS we have to be in all spaces."
Reading pile: "I just got through a couple of John Acuff books."
Playlist: Professionally: "whatever the WTTS audience tells me." Personally: very impressed with the new Adele album. "She's the real deal."
Charities rock: Holtz has been a driving force behind fundraisers, including "Rock to Read," an annual concert that has raised more than $100,000 for children's reading programs through the Indianapolis Public Library—and featuring such talent as Jackson Browne, Ryan Adams and Lyle Lovett. WTTS' "Rock on the River" concert, kicked off in 2015, raised $11,000 for the Indiana Children's Wish Fund via a concert with Alabama Shakes.

Saying yes: When it comes to picking the music, Holtz said, "We listen to everyone who has opinions. Ultimately, though, one person has to make decisions and that's me—but it's from a collection of well-thought-out opinions."

And saying no: As a champion of local music, it's often hard to say no to artists. "The guy on the street is competing with the Black Keys and U2 for space on our station. At the end of the day, we have to play songs our audience likes. That being said, we are always looking for ways to incorporate local artists in our live events."

His musical talent: "Oh, no," Holtz said. "I don't play. I don't sing. I just admire the talent of others."•

Check out more 2016 Forty Under 40 honorees.