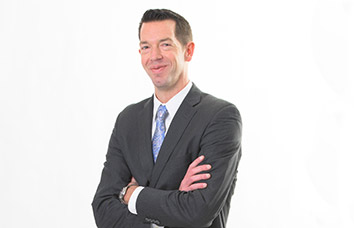 Principal, Executive Vice President
Runnebohm Construction Co. Inc.
Chris King became an owner at Runnebohm Construction, an industrial and commercial general contractor in Shelbyville, in 2012 and has directed many of the company's efforts toward enhancing economic development opportunities in a number of communities across Indiana. Its most recently completed shell building project, in Franklin, allowed for the significant growth of a local company and resulted in millions of dollars of new investment in the community. Another project in New Castle aided in the attraction of hundreds of jobs and an $80 million investment in the community.
Shelby support: At the end of 2015, King completed a stint as president of the Shelby County Chamber of Commerce. During that time, he helped launch the first county-wide career fair, re-implemented a leadership program that had fallen by the wayside, and was involved in the Advantage Shelby program. "We focused on things we could do to be transformational," he said. "The potential exists for it to be the next growth spot for the region."
Marked advantage: King was the driving force behind Advantage Shelby County, a two-year free college program that will be available to high school graduates in Shelby County starting in 2016. He continues to coordinate many of the activities related to the development of this program in partnership with the city of Shelbyville, Shelby County and Ivy Tech Community College. The hoped-for win-win is an increase in educational attainment rates and the creation of a stronger workforce to allow existing companies to grow and to attract new investment.

QUICK FACTS
Age: 35
Hometown: Fairland
Family: wife, Laura; daughter, Alaina, 2 
Social media: "A little Twitter, a little Facebook. Some Instagram."
Reading pile: "Zero to One: Notes on Startups or How to Build the Future," by Pete Thiel
Playlist: electronic dance music
Playing out: King started playing piano when he was 5 and picked up the guitar as a senior in high school. During college, he played in Terre Haute bars and, while he doesn't play publicly any longer, "If there's a bunch of people gathered around the house, I'll take the guitar out every so often."
Building pride: Repurposing a plant in a small town doesn't just have an economic impact, King said, it changes lives. "We work with the community to get a company in there employing people. As we see migration from smaller communities, being able to have a hand in giving [those places] some life is very fulfilling."•
Check out more 2016 Forty Under 40 honorees.
Please enable JavaScript to view this content.