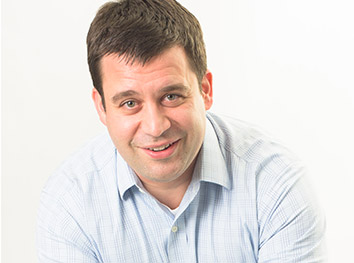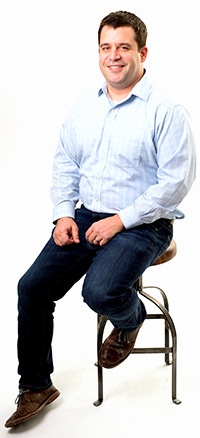 Vice President of Product 
Geofeedia
You might spend a lot of time on social media, but you've got nothing on R.J. Talyor, whose Geofeedia team collects and analyzes location-specific information from Twitter, Facebook, YouTube, Instagram and Flickr and transforms it into useful tools for such clients as CNN and Mall of America.
All wet: A swimmer since 6, Talyor competed at North Central High and DePauw University and hits the water with Indy Aquatic Masters. "It's stress relief. It's the only place now where I don't have a smartphone with me."
Entrepreneurial education: "People tell you to major in what you love," Talyor said. "I took that advice." Earning degrees in English—undergraduate from DePauw and a master's from Purdue University—he learned that "putting writing out there and having people critique it is bold. You have to be comfortable with people throwing out suggestions. And that's the same with business." He said he was the only grad student he knew who wasn't working as a grad assistant—he was employed at ExactTarget. "I negotiated working from Purdue once a week, crammed all my classes in on Tuesday—which made for long days—and it all worked out."

Quick Facts
Age:
37
Hometown: Indianapolis 
Family: wife, Allyson; children, Walt, 3, Fred, 2, Oscar, 9 months
Social media: "All of them." But Talyor also is "a little old-school—
I like to call people or see them in person."
Reading pile: Loves reading "The New Yorker" and "The Atlantic," although the long articles are now reserved for airplane rides. He also reads all of John Irving's books.
Playlist: Band of Horses, The National, Fleetwood Mac, old-school REM, plus "The
Moth Radio Hour" and "Criminal" podcasts.
Desire to downsize: After ExactTarget was purchased, Talyor found himself craving a smaller, scrappier entrepreneurial company. Conversations with Geofeedia led him to expect to be asked to commute to Chicago, but he found the company was opening an Indianapolis office. "That was one of the things that sealed the deal for me," he said. He worked out of a basement for two months before the company began to expand, opening offices on Monument Circle. "It was the crazy, fun, interesting work I was looking for."
Name game: How often is his name misspelled or email bounced back? "Literally every day," he said. He has even gone so far as to have his IT department set up both the correct and incorrect "Taylor" or, he said, "I wouldn't get three quarters of my mail."
Upside: "I do get missed on a lot of spam."•
Check out more 2016 Forty Under 40 honorees.
Please enable JavaScript to view this content.