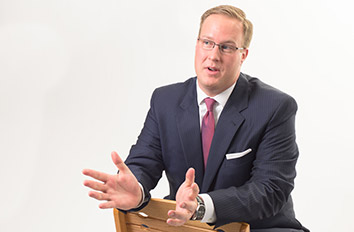 Vice President, Global Investment Specialist
J.P. Morgan Private Bank
As an investment specialist on the high-net-worth team, Jason Spilbeler manages more than $1 billion in investments for 90 Indiana families, growing assets by more than $100 million in the past year. Currently, he partners with a team that focuses on managing the wealth of business owners, corporate executives and foundations with at least $5 million of investable assets.
Growing asset: Spilbeler was recruited by J.P. Morgan out of DePauw University, where he majored in economics and communication. After participating in Morgan's six-year asset management global analyst and associate training program (finishing at the top of his class) and earning a CFA (chartered financial analyst) designation, he was promoted to vice president. 
Investing in youth: Spilbeler's relative youth in the field is only an issue with clients "before they meet me. They want to make sure they are dealing with somone who has experience, someone who can execute, and someone who understands their needs, can make sure their goals are met, and who brings resources to the table. The issue of age gets forgotten quickly." 

Quick Facts
Age:
 31
Hometown: Bloomington
Family: wife, Anne
Social media: Although he uses LinkedIn and has been on
Facebook since college, Spilbeler claims to be "one of the worst millennials when it comes to that sort of stuff."
Reading  pile: "The Martian" by Andy Weir, and David Brooks' "The Road to Character"
Playlist: Although he likes most genres from hip-hop to rock, Spilbeler said, "I'm not the most musical person."
Recessionary start: "Ultimately, I'm thankful that I started during that period," he said of arriving on the investment scene during the financial crisis. "There was a lot of hand-holding, a lot of reminding [clients] of their long-term strategy. Those who made the poor decision of selling when the market bottomed out weren't getting the advice they really needed."
Big on boards: President of the Associate Council and member of the Institutional Advancement Committee for the Indianapolis Zoo (because he's an animal lover and "they throw the best party in town"). Spilbeler also serves on the DePauw University Alumni Association board. His charitable emphasis on education led to his joining the board of Indy Reads and chairing the Organizational and Development Committee of the Young Leaders Board of Goodwill Industries of Central Indiana.
Advice to fellow Forty Under 40ers: "The cornerstone of investing is that time is your friend. A lot of people don't realize the value of compound interest. Start investing early for retirement and your kids' education."•
Check out more 2016 Forty Under 40 honorees.
Please enable JavaScript to view this content.