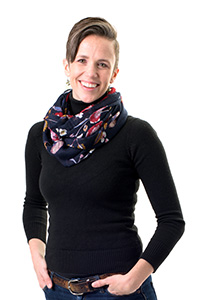 Associate Artistic Director
Indiana Repertory Theatre

Since joining the Indiana Repertory Theatre in 2013, Courtney Sale has directed productions, expanded the young playwrights' program, and spread her creative wings to direct for the Phoenix Theatre ("Mr. Burns" and the upcoming "On Clover Road") and Heartland Actors Repertory Theatre's summer Shakespeare.

Midwest meet-up: Sale never thought she would live in the Midwest. But then IRT playwright-in-residence James Still saw a piece she had staged in Austin, Texas, and invited her to Indy to see his latest play. "I just was enamored with the whole experience," Sale said. "The audience felt really hungry to be there, the post-show questions were very sturdy, and it was really fresh and not cynical." After meeting IRT Executive Artistic Director Janet Allen, she thought, "That's who I want to be when I grow up."

Direct access: Allen offered Sale an opportunity to direct "Jackie and Me," which used many top local actors. A job offer arrived at the same time her husband was offered a position at the National September 11 Memorial and Museum in New York, which he was compelled to take in part because his brother had died in the terrorist attack. The couple accepted both jobs. "Instead of commuting from the Hamptons," Sale said, "he commuted from Indy."

Quick Facts
Age: 36

Hometown: Amherst, Virginia

Family: husband, Sean Manning; son, Finn, 10

Social media: Except for a
personal Facebook account, Sale said she's "under the radar on the Internet."

Reading list: Marilynne Robinson, Jonathan Lethem, Miranda July, Zadie Smith, Camille Paglia, Seth Godin, Madeleine L'Engle and
Nick Hornby

Playlist: Tuneyards, Joe Strummer, Jose Gonzalez, Andrew Bird and Gary Clark Jr. Plus, she said, "I do love a 'Ted Radio Hour.'"
Positive programs: Sale is involved in the IRT's Many Mentors Initiative in which mentees get a free ticket if joined by mentors paying a reduced price. She oversees classes, writes grants, and collaborates with just about every department. "I don't know if anyone here can float and engage this much," she said. "And the parameters keep shifting."

On outside work: "I feel very supported in that trajectory," Sale said of her work with other theaters in Indy and beyond. "What's great is that the artistic staff here knows that us developing outside the halls and walls of this theater will only benefit and help what we do here. Sharpening ourselves against other aesthetics and styles and tastes is always good."•



Check out more 2016 Forty Under 40 honorees.