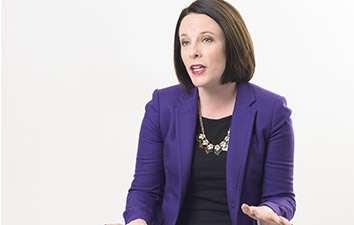 Director of Institutional Advancement
Indianapolis Zoo
If she provided leadership for just Zoobilation, the city's most popular fundraising event and one of the hottest tickets of the year, that might be enough. But Julie McDearmon is a point person for all of the Indianapolis Zoo's fundraising efforts, stepping into the job in the midst of the push for the Simon Skjodt International Orangutan Center.
Mission-driven: "I've been in fundraising for 15 years and up until I worked at the Indianapolis Zoo, I enjoyed fundraising, but didn't have that 100 percent connection and passion with the cause," McDearmon said. "I'm finally raising money and awareness for something I'm most passionate about—animal conservation."
Swing time: McDearmon arrived in the midst of the campaign for the International Orangutan Center. "It was an exciting time to be a fundraiser," although such a high-profile landmark can lead to donor fatigue. "It's always a challenge. But when people see how successful something like that is, they want to be a part of what we are doing."

Quick Facts
Age:
39
Hometown: Indianapolis
Family: husband, Travis
Social media: Facebook. "I'm a GenEx-er. The Twitter thing is just not my favorite."
Reading pile: Daphne Sheldrick's "Love, Life, and Elephants"
Playlist: Dave Matthews, Amy Winehouse
Face to face: One advantage of fundraising for the zoo is that McDearmon can bring prospective donors up close with the species they are helping. "When they see the animal, learn about their plight, and then we are able to educate them about how they can help, that's something very powerful." She said people "love the giraffes, and the orangutans are still on top of everybody's list," And she's armed with details. "A lot of people don't know we were the first to successfully artificially inseminate an elephant," she said. "And we've done it six times."
Eating with the animals: "I couldn't tell you the formula," McDearmon said of Zoobilation, the zoo's wildly successful single-day fundraiser. "We don't really know." (In 2015, it sold out general admission tickets in seven hours.) It's a year-round project. "But we don't take it for granted. We always try to make it fresh and new."•
Check out more 2016 Forty Under 40 honorees.
Please enable JavaScript to view this content.