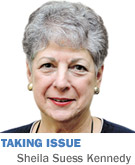 It comes as no surprise to those of us who have lived in Indiana for many years that our state lawmakers are not fans of environmental regulation. But you might think the continuing media coverage of the water crisis in Flint, Michigan—and the attendant public outrage—would at least make them stop and think.
You would be wrong.
Instead, the House is considering HB 1082, which would make it illegal for Indiana's environmental agency to pass policies that set stricter standards for public health than the rules administered by the Environmental Protection Agency, at least in areas where the EPA has set standards. HB 1082 has thus been called the "no more stringent than" bill.
That might sound innocuous, but it isn't. Consider Flint.
As the Hoosier Environmental Council points out, the situation in Flint illustrates precisely those gaps in federal regulation that Indiana would be prevented from addressing under HB 1082: For example, under federal regulations, drinking water systems can continue to deliver lead-tainted water to households and businesses for up to 24 months while a variety of fixes are attempted. In 24 months, children's health and cognitive abilities can be permanently damaged.
In fact, EPA regulations are considered weak in a number of areas, among them pollution from fracking, factory farm manure pits, and outdoor wood boilers. There might be others.
Why would we want to prevent Indiana from addressing these or other, future, areas where federal regulations might prove inadequate? It isn't as if the absence of a "no more stringent" bill would require the state to act. Why tie the hands of those charged with citizens' public health and safety?
As the Hoosier Environmental Council notes, by stripping away the ability of Indiana's environmental agency, the Indiana Department of Environmental Management, to deal with issues where the EPA has acted inadequately, Indiana is made vulnerable to not serving its citizens in a timely manner, since the Legislature is out of session 75 percent of the year.
There is also considerable uncertainty about how HB 1082 would affect areas where federal law grants the state considerable authority to decide how to implement existing air- and water-quality plans and environmental cleanup programs. Would the state be vulnerable to lawsuits alleging that its activities pursuant to those federal grants of power violated the "no more stringent" standard?
Here's a suggestion: If the Indiana Department of Environmental Management issues a rule or otherwise acts in ways that our lawmakers, in their wisdom, consider excessive or inappropriate, or damaging to Indiana's economy, the Legislature can modify or repeal that rule. Surely, making considered judgments about individual, concrete regulations is preferable to a blanket prohibition that would tie the hands of the state in cases where swift action might be necessary.
HB 1082 is just one of a number of "solution in search of a problem" measures that reasonable folks can only hope die a merciful death during the legislative process; another is the weird "right to farm" bill that has been introduced in previous sessions. That measure would put livestock production practices (including, presumably, any ancillary pollution created by those practices) on a par with fundamental liberties like the right to vote and freedom of speech and religion.
I don't understand why our lawmakers want to provide the livestock industry with legal immunities not enjoyed by any other industry in Indiana. But then, there's clearly a lot I don't understand about the Indiana Legislature.•
__________
Kennedy is a professor of law and public policy at the School of Public and Environmental Affairs at IUPUI. She blogs regularly at www.sheilakennedy.net. She can be reached at skennedy@ibj.com. Send comments on this column to ibjedit@ibj.com.
Please enable JavaScript to view this content.