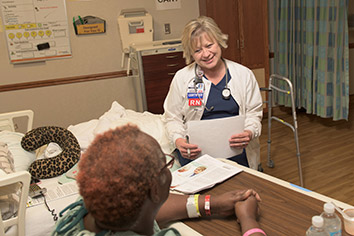 Facing a surge of retiring nurses and a growing number of patients, Indiana hospitals are scrambling to fill thousands of nursing positions, raising questions about whether they will be able to keep operations fully staffed.
Already, some nurses are complaining about long hours and not enough time to care for patients. Hospitals are responding by offering bonuses to new hires, setting up nursing residency programs, and trying to keep experienced nurses as long as possible.
It represents a sharp turnaround from 2013, when hospitals in Indiana and around the country were chopping tens of thousands of jobs, citing declining admissions and lower reimbursements.

Chase
Across Indiana, the number of nursing jobs is expected to grow 17.6 percent through 2022, driven by an aging population and demand for more health care. That puts nursing right at the top of the Indiana Department of Workforce Development's "Hoosier Hot 50 Jobs" list.
At the same time, older nurses are expecting to retire in huge numbers in coming years. Nurses older than 54 make up about 27 percent of Indiana's nursing workforce. Across the United States, nearly two-thirds of nurses older than 54 say they're considering retirement within three years, according to a recent survey by the Center for the Advancement of Healthcare Professionals.

Adams
Some nursing advocates are warning that hospitals are under pressure to stretch staffing, which could only make the problem worse.
"If there's a severe shortage, it could lead to hospitals increasing nurse/patient ratios, and that could lead to burnout and more turnover," said Blayne G. Miley, director of policy and advocacy at the Indiana State Nurses Association. "That's not what anyone wants."
Already, some hospitals are dealing with tight staffing. In late 2014 and early 2015, Indiana University Health's Methodist Hospital was short-staffed 18 out of 23 days on one patient unit, and 14 out of 16 days on another unit, according to a review by the Indiana State Department of Health, which conducted an investigation after some nurses complained.
Sometimes the units were short by two RNs, or two techs, or a combination of nurses and techs. The hospital closed some beds to prevent its staffing levels from declining further.
The labor shortage came after IU Health had cut nearly 600 jobs across the state, including an unspecified number of nurses, in response to declining admissions and lower reimbursements. A year later, however, patient volumes surged, and IU Health hired 452 nurses at its three downtown hospitals over six months. But it took months for those nurses to complete training.
IU Health now plans to hire up to 300 more nurses at Methodist and University hospitals over the next few years, said Linda Chase, the chief nursing officer. She said the system has increased its budget to recruit and hire nurses, but declined to say by how much.
"We're in a very competitive market," she said.
A search on IU Health's career board website turned up more than 600 open nursing positions across the state.

Putnam
Other hospitals are looking everywhere for ways to keep all the shifts staffed, such as increasing the use of "floaters" to move between buildings or units as needed, and offering overtime and bonus pay.
"We have a lot of extremely dedicated nurses who are willing to pick up extra shifts," said Cindy Adams, chief nursing executive at St. Vincent Health, a subsidiary of St. Louis-based Ascension Health, which operates 20 acute-care facilities in Indiana. "We have a lot of people working part time and temporary, as needed. And then we are using agency staffing as a last resort."
St. Vincent Health also is in the early stages of setting up a regional training center for nurses with a goal of getting new hires up to speed faster and more efficiently. The system has not yet decided where it will house the center.
Sweetening the pot
Nurses long have enjoyed attractive incomes. Nationally, the median wage for a registered nurse is $66,640, or nearly double the median for all occupations, $35,540, according to the Bureau of Labor Statistics.
In Indiana, the average salary for an RN is $57,370, according to the state Department of Workforce Development.

Increasingly, recruiters are upping the ante, using the tried-and-true approach of handing out cash to meet their goals. This month, Community Health Network, which operates eight hospitals in Indianapolis, Anderson and Kokomo, rolled out two bonus programs to attract nurses.
New hires who have at least a year of nursing experience could get a $2,000 hiring bonus. And any employee could qualify for a $1,000 referral bonus for helping the system hire a registered nurse, nurse practitioner or clinical nurse specialist on board, or $500 for helping to hire a licensed practical nurse.
Community also recently set up a "nursing congress," a group that represents front-line nurses, to help supervisors improve patient care and working conditions. The group found a way to improve documentation for blood transfusions, and is working on new ways to educate patients with chronic conditions.
"We've got to build a culture where nurses want to come work for Community Health Network, and make us the employer of choice," said Jean Putnam, Community's chief nursing officer.
IU Health's two major hospitals in Indianapolis—Methodist and University—created a one-year nursing residency program for new nurses in 2012. Under the program, new graduate nurses enroll in a year-long program that focuses on mentorship and integrating fresh faces into the profession. IU Health said the program has been useful in retaining nurses.
While large hospitals in Indianapolis are searching high and low for talent, the challenge is even tougher for suburban, community and rural hospitals. Those hospitals often pay less and are not considered career destinations, said Elizabeth Walker, chief strategy officer for Quorum Health Resources, a Tennessee-based consulting firm focused on hospitals.
"They're competing with the larger players, and it often comes down to who can pay more pennies and more dollars," Walker said. "It's a tough environment."
It's difficult to say exactly how many openings there are at a given moment across Indiana. Many hospitals have jobs boards on their websites. Most of the larger hospital systems have posted hundreds of positions for nurses.
Double whammy
Why the big shortage? In short, a swelling demand for nursing care, an aging workforce nearing retirement, and nursing schools that are pretty much just holding even on producing graduates.
First, the baby boom population is aging, driving up demand for health care. Across the country, more than 10,000 people turn 65 every day, and that will continue for more than another decade, according to the Pew Research Center. By 2030, one in five Americans will be a senior citizen.
As people get older, they typically need more care. Four in five older adults have at least one chronic condition, more than half have two, according to the National Council on Aging.
But while patients are getting older, so are nurses. More than 27 percent ofIndiana nurses are 54 or older, compared to just 16 percent in 2005, according to the IU Department of Family Medicine's Health Workforce Studies.
Across the country, the average age of a nurse is 50. Many are considering retirement, and nursing schools are under pressure to replace them. Indiana's 26 nursing schools produced 5,165 graduates in 2014. But a shortage of faculty and funding is preventing many from increasing enrollment.
So facing a limited supply, hospitals are turning on the charm, recruiting nursing students long before they graduate. They are throwing several job fairs a year, and offering internships. By the time they graduate, students often have multiple offers.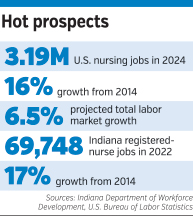 Compare that to 2013, when hospitals were shedding jobs, and nursing students sometimes had to search for six months or so to find a position.
"The market has just really surged back," said Susan Hendricks, associate dean at the Indiana University School of Nursing.
And the nursing turnover means young nurses are able to move up the ladder quickly. Elyse Leahy, 24, worked as a floor nurse at Methodist Hospital for about two years before taking a job as shift coordinator on the fifth floor, where patients are treated who have been in accidents or suffered strokes. She schedules shifts, helps with budgeting, and keeps track of which patients are coming or going.
She described herself as very motivated, graduating from high school at 16 and college at 20. Nursing, she said, is a great field for people who want to work hard, help others and advance quickly.
"It's the best profession in the world," she said.•
Please enable JavaScript to view this content.