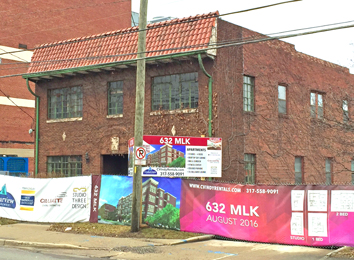 Indiana Landmarks is hailing a developer's decision to save a historic downtown building that it had intended to demolish to make way for an apartment project.
Olaf Lava LLC, an entity of Bloomington-based Cedarview Management, still is building the development. Only now it's integrating the Willis Mortuary building into the project, much to the delight of the preservationist group.
The vacant Willis building at 632 Dr. Martin Luther King Jr. St. that stands just north of the Madame Walker Theatre is significant in particular to the city's black heritage.
"[Cassius M. Clay Willis] was the first certified mortician in the state who was African-American," said Mark Dollase, Indiana Landmarks' vice president of preservation services. "We felt it was important to keep that legacy around as part of who he was and what the building meant to the African-American community."
Olaf Lava has started building 30 apartments and a parking garage on a surface lot surrounding the Willis Mortuary building and hopes to finish in the fall. Despite its eligibility for the National Register of Historic Places, the 1920s two-story building was destined for the wrecking ball.
Indiana Landmarks, however, convinced Cedarview to alter its plans and save the building. Plans now call for it to be incorporated into the development as a leasing office and fitness center on the ground level with an apartment above.
Dollase credited Cedarview CEO Elliot Lewis with listening to Indiana Landmarks' concerns and evolving on his stance to demolish the historic structure.
"Once we informed [Cedarview] of the significance, I think that they certainly realized that they would need to alter their plans in some way," Dollase said.  
A representative of Cedarview could not be reached for comment to discuss the decision to spare the building.
The apartment project primarily will stand four stories, with a small three-story section facing the two-story Willis structure to provide for a "step-up appearance," according to a city filing.
The building's façade primarily will be brick, with cast stone detailing, to complement the look of the mortuary building and the Madame Walker Theatre.
County records show Olaf Lava bought the property in May for $550,000 from George Green, who last operated Willis Mortuary before closing it about 10 years ago.
Dollase is just glad the building will be preserved.
"The Willis building is pretty much going to look on the outside like it has for many, many years," he said. "Only now it will be repaired and in much better condition."
 
Please enable JavaScript to view this content.