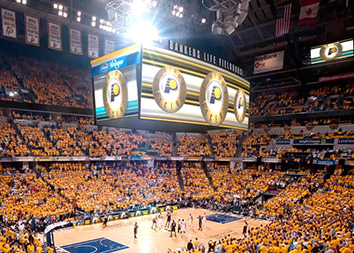 Indiana Pacers President Rick Fuson isn't going to this weekend's NBA All-Star Game in Toronto alone.
In what he called the most serious attempt to bring the game to Indianapolis since it hosted the event in 1985, Fuson will be accompanied by Visit Indy CEO Leonard Hoops and Senior Vice President of Visitor Experience Susie Townsend, as well as Indiana Sports Corp. President Ryan Vaughn and Vice President Susan Baughman. Mel Raines, who is in charge of operating Bankers Life Fieldhouse for the Pacers, also is making the multi-day trip.
All of those individuals were instrumental is hosting the Super Bowl here in 2012, Fuson pointed out.
"We're going to examine every aspect of the game," Fuson told IBJ Wednesday morning. "We'll be looking at game operations, transportation, venue management and all other official [host city] functions. That's why we wanted all the appropriate experts from our town to take a close look. When we get back we should have a very good feel for the entire game and surrounding events."
When the contingent gets back, Fuson said, they'll wait for NBA executives in New York to release bid specifications later this year for cities interested in hosting the all-star game. Then the group will huddle to determine whether or not to pursue the event, Fuson added.
"There's no guarantee we're going to get it," Fuson said. "But we certainly have interest in it, and we're taking a serious look."
Charlotte has already secured the 2017 All-Star Game, but NBA officials said the 2018 event is up for grabs. It's not clear which other cities are interested in hosting the game in 2018 or beyond.
The Pacers seem to have an inside track if team owner Herb Simon wants to pursue the event. In December, NBA Commissioner Adam Silver told IBJ that he endorses the idea of bringing the event to Indianapolis.
Silver said he's had informal talks with Pacers officials recently about hosting All-Star weekend festivities and that those discussions "have been received very well by me."
"What would make Indianapolis a great place for the NBA All-Star Game are the same things that made it a great place for the NCAA championships and a Super Bowl," he said. "People think of Indianapolis as a world-class sports town."
Bankers Life Fieldhouse would be a great venue to host the game and other All-Star weekend activities, Silver added.
Recent host cities estimated the economic impact of All-Star weekend between $70 million and $100 million, which is about a fourth of a Super Bowl's economic impact.
"The All-Star Game would be a tremendous event to show how great a city Indianapolis is," Fuson said. "It would also have a great economic impact."
Please enable JavaScript to view this content.