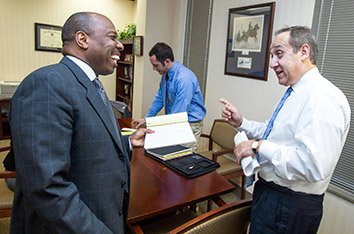 In his last job, Nasser Paydar helped write IUPUI's new strategy.
Now, six months into his role as the university's chancellor, the mechanical-engineering-professor-turned-campus-administrator gets to implement it.
On IBJ's visit to his fifth-floor campus office—a space with picturesque views of the Indianapolis skyline—Paydar, 59, is crafting a mammoth PowerPoint presentation tracking the university's growth and goals.
But while the chancellor is all about charts and graphs, the PowerPoint is not. It contains animal memes to illustrate the complexities of changing today's tricky higher education landscape, where buzzwords like innovation, cost containment, efficiency and value are top of mind.
In one, kittens lap at a bowl of milk floating across the screen. "Incentivize and motivate your staff, and they will follow your vision."
"I don't take myself seriously," Paydar says. Obviously.
But his job is no joke. "I take what this campus is and its mission very seriously," he says.

Paydar
Paydar became fifth chancellor of Indiana University Purdue University at Indianapolis last August, succeeding Charles Bantz, who retired after 12 years in the position. Paydar has been teaching and has assumed various leadership roles—most recently, as IUPUI's executive vice chancellor—across various IU campuses since arriving in 1985.
The oddly named downtown university—which "couldn't be more confusing," Paydar admits—has changed a lot since then. It's had many identities over the years, from a place for adults and part-time learners to a community college to a heavy research-focused university.
Now it serves 30,000 students, about 8,000 of whom are in its graduate programs. More than 95 percent of the incoming IUPUI freshman class this year was teenagers, or so-called traditional college students, and the university has been increasing the student housing and other amenities those students seek.
In the university's next chapter, Paydar wants to increase IUPUI's visibility to and connections with the rest of the city's businesses and community organizations. He also wants to increase the diversity of the school's student body, double the availability of need-based financial aid, and make learning more efficient by upping the number of hybrid, online, interdisciplinary and accelerated programs.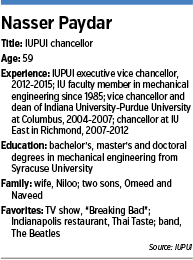 Here's what else Paydar told IBJ in an interview edited for length and clarity.
IBJ: In five years, how do you hope IUPUI will look different?
PAYDAR: There's nothing more important for us than making sure that students that come to us, finish, get an outstanding education and go back and work in Indiana. IUPUI will have more students that are graduating at a higher rate. IUPUI will have made some impact in the inner city supporting and increasing the education attainment rate. IUPUI will be a much nicer-looking environment, where you know you're in a different place.
How can the university better connect with businesses?
IUPUI is an urban campus. We have an opportunity and an obligation to be involved in the community, to have our students be out there in internships, experiential learning, to be involved in business and nonprofits in the community. I'm quite aware of the impact the faculty could bring to businesses. We have a large number of engineers, business faculty and health faculty who could contribute to consulting and executive education. We can team up with businesses to have joint grants. I don't see why business here should go all over the country for training where we could provide that easier with experts right around the corner from their offices.
Indiana higher education officials have recently spotlighted the state's low on-time graduation rate, which they say is a big problem for the workforce and for individual earning potential. How is IUPUI attempting to solve that problem?
We are changing our tuition structure next year to banded tuition, where students will pay the same amount whether they take 12 or 18 credit hours. We want to encourage students to take more courses. By having one flat fee, they will take more and more courses, and therefore, they increase their chances of graduating sooner, on time and with less cost, and joining the workforce. In 2005, 21 percent of our students attempted 15 or more credit hours during the fall semester. In 2015, 64 percent of students did.
What is one higher education or workforce challenge specific to Indiana that we will have to face?
For this state to be competitive, you need to have more people stay here after graduation. A job will get you excited for a few months, but you need more to life than just a paycheck. I don't mean we don't have mountains or oceans. We don't owe any apologies because we don't have that. That may not be what young professionals are looking for. They want to be engaged. They want to feel welcome. They want to feel they're heard and they want to have a good life.
What's your approach to dealing with pressures to cut costs and reduce tuition?
Universities have to find ways of becoming more productive. IUPUI had a center in Greenwood, trying to get to older adults who want to take classes. Those years are gone. Online is the way to go. I closed that center a year ago. While not popular, you have to make those decisions. We have to question ourselves. Do we need the same type of classrooms that we did in the 1950s? Tapered auditoriums? You need to become more conscious of the success of students and deliver things in a way that will make them more successful.
How do you motivate people to improve in this tough higher education landscape?
People say changing university culture is difficult. It's both a science and an art. My job is to develop a vision for IUPUI for myself with the knowledge I have locally and nationally. Then I have to make that vision a shared vision for all of us to realize, and put enough incentives and accountability and performance measures so year over year we see where we're going. Our 3,000 faculty members have tenure. Raises are in the order of 1 percent each year. You have to change without ordering. You have to educate them and empower them. I enjoy that.•
Please enable JavaScript to view this content.