Four-year-old Wyatt Neale waited patiently in line with 13 other young boys, preparing to navigate his way through a maze of cones, trampolines and balance beams.

Sporting matching black T-shirts and headbands, the tykes were participating in what might resemble a pint-size version of NBC's hit television show "American Ninja Warrior," where adults race to conquer challenging obstacle courses.

Only this variation is available at the FUNdamentals gymnastics club in Westfield and is translating into big business for local entrepreneur Casey Wright.

The 37-year-old owns not only the gym but also the Ninja Zone curriculum she's developed that's catching on across the country. In nearly two years, Wright has licensed Ninja Zone to 130 gymnastics clubs in 42 states enrolling 10,000 boys. She hopes to hit 500 gyms by the end of this year.

What better way to attract boys to the female-dominated sport of gymnastics, while generating additional revenue for gym clubs, than portraying them as skilled ninja warriors.

"It's literally tapping into a market that was almost untouched," Wright said. "For boys, it's not on their radar as an option."

Through Ninja Zone, Wright said, she has increased male participation at her gyms from 2 percent to 40 percent.

At Westfield's FUNdamentals gymnastics club, the group of 3- and 4-year-olds traverses the obstacle course while three coaches shout encouragement and instructions, prompting one little boy to exclaim, "I know how!"

Wright
Another accidentally runs into one of his fellow competitors and knocks him down, inducing a "sorry" from the perpetrator.

The positive words are music to Wright's ears, since the Ninja Zone program is meant to build not only athletic skills but character as well.

Wyatt Neale's mother is sold. She enrolled her son three months ago and already has noticed improvements in his listening.

"He gets excited to come," she said. "He talks about it at home, and he loves the coaches."

Neale and other parents enrolled in Ninja Zone pay an average of $80 per month for weekly, hour-long classes where the kids use elements of martial arts, gymnastics and what's known as Parkour—a mix of running, climbing, swinging and jumping.

The program is geared for boys ages 3 to 11 and has proven so popular at the Westfield FUNdamentals that there's a waiting list.

Member gym owners pay an initial fee of $5,000 for the Ninja Zone curriculum and $350 per month to hold the license. Wright said not one so far has dropped the program.
Patti Komara, owner of Patti's All-American gym in Dyer, has been in the gymnastics business 46 years and seldom has seen a program perform so well.

"It's just a rock-solid curriculum that makes sense to the gym owner, the parents and the students," she said. "Who doesn't want to be referred to as a ninja?"

Early adversity

Wright, a 1996 graduate of Franklin Central High School, might as well have been born in a gym.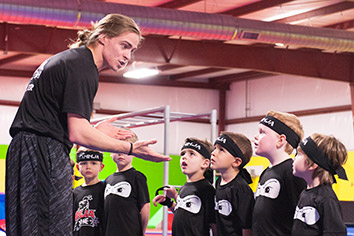 The Ninja Zone program—geared for boys ages 3 to 11—is so popular at the Westfield FUNdamentals that there is a waiting list. The cost is about $80 per month. (IBJ photo/Eric Learned)
Her parents, Bob and Dana Wright, competed as gymnasts at Ball State University and were pioneers of local club gymnastics, operating gyms in the Indianapolis area beginning in the 1970s.

Wright followed in her parents' footsteps and, at just 5 years old, became the youngest state gymnastics champion in Indiana. The record still stands because children now can't participate in state competitions until they're 6.

Burned out on the sport and the long hours, Wright quit competing even before becoming a teenager and turned to coaching. Following high school, she enrolled at Indiana University and pursued a sports marketing degree and later entrepreneurship. She left in 2000 before finishing to manage her parents' gymnastics business.

Wright bought their Wright's Gymnastics academy in Greenwood in 2006 and since has opened three more on her own, all operating as Wright's FUNdamentals and using the Ninja Zone curriculum. They are in Westfield, the Center Grove area and on the southeast side.

As Wright prepared to launch Ninja Zone in 2012, her husband was diagnosed with a mental illness and left her. She was pregnant at the time.

"I was a single mom and knew that I had to focus on the [Ninja Zone] business rather than the coaching," she recalled.

Wright's son, now 3, and daughter, now 5, have been adopted by Jeremy Ciano, an optometrist at Clay Terrace in Carmel, whom she married in July. Together, they have two boys and two girls ranging in age from 3 to 10.

Expansion opportunities

Ninja Zone has grown to seven employees, including a chief operating officer, and technology and marketing staff. Wright's revenue goal for 2016 is $3 million, up from $800,000 in 2015.

Wright so far has built Ninja Zone through email campaigns and trade shows. The goal this year is to target gyms in specific cities, starting with the Tampa and Orlando markets in Florida.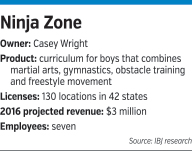 Ninja Zone could be modified to fit the curriculums of day care centers, after-school programs and YMCAs. She said another possibility would be growing beyond gyms to operate franchises in stand-alone locations.

There's even a chance to expand worldwide. Wright said she's been approached by the president of the Australian Gymnastics Federation and by club owners in Brazil, Canada and Great Britain.

Ninja Zone also has begun hosting competitions for children that mirror "American Ninja Warrior" in Indianapolis, Chicago and Cincinnati.

Shane Harden, owner of Impact Sports Center in Lodi, California, began offering Ninja Zone in October and immediately filled all 200 slots. He now has a waiting list of more than 100 without spending anything on outside marketing.

"Every business owner dreams of having too much business," Harden said, "but it breaks our heart when we have to put an excited child on a wait list."

The excitement cools for some parents when they learn Ninja Zone is mostly for boys. Wright does allow girls, but they're separated from their male counterparts.

"I get [flak] for that," she said, "but I know I'm right."•