The Fishers City Council approved $2.1 million in tax incentives for a new headquarters for Indianapolis-based Stanley Security on Monday night.
The company, which makes residential and commercial security devices and systems, plans to construct a three-story, $15.9 million headquarters in Fishers Point Business Park on the corner of Kincaid and Sunlight drives.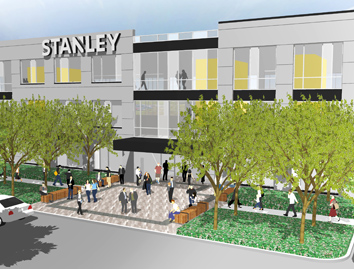 More than 300 employees making an average annual salary of close to $62,000 are expected to work in the 80,000-square-foot building, according to public documents.
Stanley Security, which was known as Best Lock until being acquired in 2003 by Stanley Works, will move from its current headquarters at 9998 Crosspoint Boulevard in Fishers. A Stanley facility at 6161 E. 75th St., in Indianapolis, near Binford Boulevard, will be unaffected by the changes.
About 165 employees in Noblesville and other out-of-state locations will transfer to the new building, along with 150 employees who already work in Fishers. No employees from Indianapolis will move.
Fishers offered Stanley a 10-year real property tax abatement at 100 percent for the first eight years and 75 percent in years nine and 10. The abatement is expected to save Stanley $1.8 million during the 10-year period.
The city also agreed to waive development fees, which are estimated to be worth $328,000.
Under the agreement, Stanley must complete construction and have 165 employees occupying the building by March 1, 2018.
Fishers Mayor Scott Fadness announced the company's plans to relocate during his State of the City address Wednesday.
The building will be constructed near the planned interchange at 106th Street and Interstate 69. The offices would be near the proposed Sun King Brewing Tap Room and Pilot Brewery, which is expected to open no later than 2018.
Editor's note: This story has been corrected from its original version to reflect that Stanley Security will be relocating its headquarters from 9998 Crosspoint Boulevard in Fishers and that no Indianapolis jobs will be moved to the new Fishers building.
Please enable JavaScript to view this content.