The Fishers City Council approved selling a downtown parcel to Indianapolis-based Braden Business Systems Inc. for a discounted price in addition to nearly $1 million in incentives Monday night.
The office equipment and technology firm has proposed a four-story headquarters building on the corner of North Street and Municipal Drive in the Nickel Plate District. The 35,000-square foot building would cost $6 million to $7 million. Braden expects to occupy 20,000 square feet, and the city of Fishers would master lease the remaining 15,000 square feet.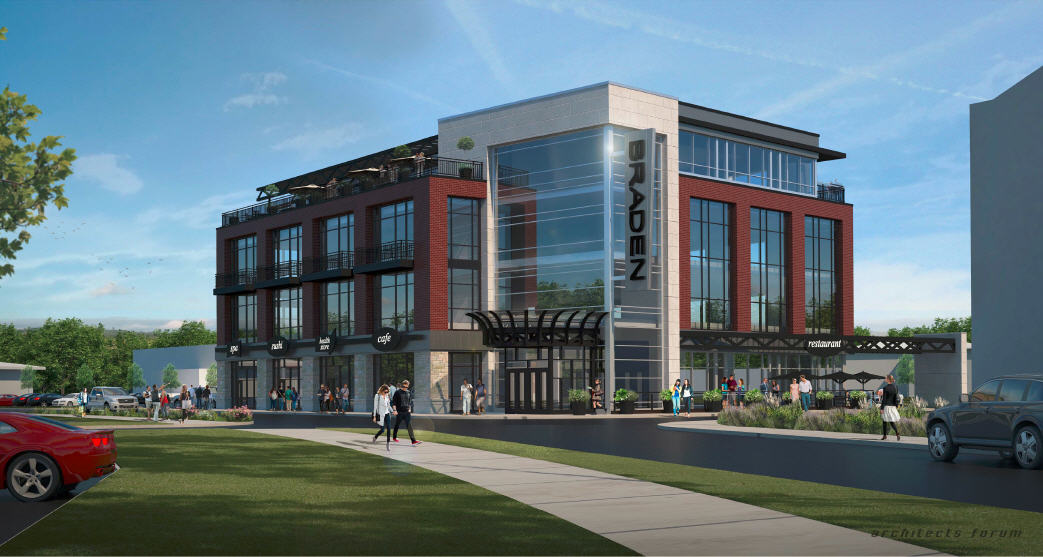 Braden is expected to move its 70 employees to the headquarters and add as many 90 workers by 2020.
The property is directly to the south of the Fishers City Court building and north of the parking garage for the $28 million mixed-use Switch development.
Under the agreement approved by the council Monday night, the city will sell the property to Braden for $5. The deal was approved unanimously. Councilwoman Selina Stoller was absent and Councilman Rich Block abstained from the vote due to a personal connection with the petitioner.
The Fishers Redevelopment Commission advertised the 0.62-acre parcel—which is now being used as a staging area for construction of The Switch—in December for project proposals, including office and retail space, but did not receive any offers.
The council also approved a five-year personal property and six-year real property tax abatement for Braden. The amount of the abatement could vary from $650,500 to $770,000, depending on how the company acquires a warehouse for its operations.
According to public documents, Braden intends to purchase, lease or construct an 8,000- to 15,000-square-foot warehouse in Fishers in addition to the new office building. If Braden builds a new warehouse, the abatements could be worth nearly $770,000; if it leases or purchases an existing building, the abatements would be worth an estimated $672,000 and the real property tax abatement would be for five years.
If the company only pursues the headquarters project, it would not receive a real property tax abatement, and the personal property tax abatement would be worth $650,500.
The city is also waiving development fees for Braden, which are estimated to be $230,000.
The city has also agreed to provide 127 parking spaces for Braden in the adjacent parking garage from 7 a.m. to 5:30 p.m. Monday through Friday.
Braden, founded in 1989, is now headquartered at 9430 Priority Way Dr., just south of 96th Street near Keystone Parkway. The company has added 30 workers in the last six months following two recent acquisitions.
The Indiana Economic Development Corp. also offered the firm up to $1.45 million in conditional tax credits and up to $100,000 in training grants based on the company's job-creation plans.
Braden must complete construction by Jan. 31, 2018, according to its agreement with the city of Fishers.
Please enable JavaScript to view this content.