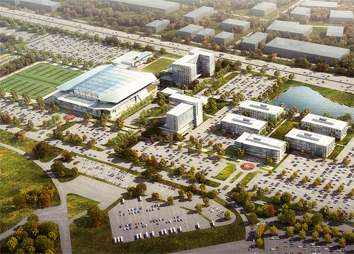 The top executive at an Indianapolis start-up that wants to build a $500 million medical complex at the Indianapolis International Airport describes himself as an expert in investments, financial planning and wealth management.
But Craig Sanders, co-founder and CEO of Athlete's Business Network, has a mixed track record. He built a massive network of Dunkin' Donuts franchises, opening more than 200 locations in six cities nearly a decade ago. But the business struggled, lost millions of dollars and went bankrupt in 2009, and the chief financial officer went to prison for stealing $429,000.
Sanders also filed for personal bankruptcy in 2013. Along the way, he fell $130,000 behind on payments on his Zionsville house and failed to file tax returns, according to a report by a bankruptcy trustee. As part of his bankruptcy process, Sanders was required to complete an online course in personal financial management.
He acknowledged those setbacks in a phone interview and several email exchanges with the IBJ. He said he has since gotten up-to-date on his mortgage payments and settled with all his creditors, although he declined to say if they were forced to take less than they were owed.
"You've got to protect your house and that's what I did. I did what Donald Trump did," Sanders said, referring to the Republican presidential candidate who led four companies that filed for Chapter 11 reorganization. "I protected my family to the best of my ability."
He pointed to what he called numerous business successes, including working as an executive for two technology companies that were later bought by Motorola and Corning Fiber for hundreds of millions of dollars each. IBJ was unable to verify whether Sanders played a significant role in those deals.
"I've taken a lot of risks," Sanders said. "I've had wins. I've had losses. We just take risks."
Sanders, 49, speaks in fast bursts, often with a bite in his voice, possibly a carryover from his time as an Army officer after graduating from Siena College in upstate New York on an ROTC scholarship.
He has spent the past two decades working in businesses in Boston, New York and Indianapolis, and calls himself a deal-maker who specializes in spotting ideas, building teams, finding investors and getting big projects off the ground.
On Friday, his latest idea will get a fuller hearing and possibly a green light. The airport authority board is scheduled to formally accept his proposal to redevelop about 130 acres of land near the old terminal.
Sanders is proposing to build a massive medical campus with up to five office buildings and two hotels. He said the enterprise, when fully built, could employ 3,000 people, including doctors, nurses, technicians and support staff.
The center would specialize in the treatment and research of concussions, post-traumatic stress disorder, traumatic brain injuries and other brain health issues for athletes and veterans. It also would include an athletic stadium, sports-themed entertainment facilities and retail buildings.
It remains unclear how much money Sanders' young company has to make that plan a reality. An airport authority spokesman declined to release a copy of the proposal until after the vote on Friday. The proposal is supposed to include detailed information about the project's costs and revenue, the company's ownership structure, along with income and balance sheets.
Earlier this week, neither Sanders nor his finance partner, Chicago-based Ziegler Capital, would identify the company's investors or lenders.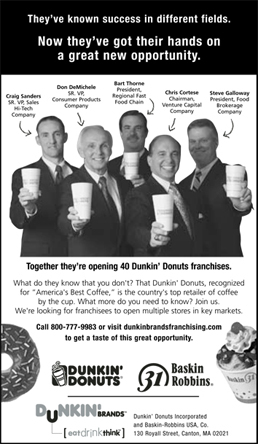 Craig Sanders (far left) was featured in an ad seeking Dunkin' Donuts franchisees, as a "hi-tech" executive who already took the plunge. His coffee-and-pastries venture eventually lost million of dollars.
Sanders said he, his family and his business partners already have invested nearly $3 million in Athlete's Business Network. He said he hoped to add to that capitalization in coming months by approaching investors for funds, once the airport accepts his proposal.
He said the company has been seven years in the making, and it would be a mistake to focus on his past business and personal setbacks.
"I'm the first person to stand tall and tell you we've had wins and losses," he said. "But we put a resume together that we will unequivocally execute. So to the extent you make this about my personal bumps and bruises, that would be disappointing and unfortunate."
Sanders offered a list of personal references to vouch for him. IBJ contacted them, and some spoke highly of him, talking up his skills as a deal-maker and a connector.
Fred Solomon, executive vice president of Sterling Energy Group, a small Gary company with about six employees, said Sanders introduced him to former New York Gov. George Pataki and former New Hampshire Gov. John Sununu. He said those introductions helped him make other connections to buy small, alternative-energy plants in the northeast.
"I found Craig to be very bright and articulate," Solomon said. "He was very instrumental in helping me deal with the right people in the right space."
But another business reference said he did not remember Sanders. Chris Brown, founder and director of New York-based investment firm Global Emerging Markets, paused for a long moment and finally said "I don't recognize that name."
The company in question was Accelera Wireless, a Boston company that built cell towers for clients such as Nextel, Cellular One and British Telecom. Sanders said he was co-founder of Accelera, which employed 400 people, and that Brown was his lead investor.
Brown said that although he didn't remember Sanders, he remembered Accelera with some distaste. "We lost all of our investment on that," he said. "It was a zero."
Sanders, in response, took issue with Brown's characterization, and said he was a key player in the company. "I was one of many folks in senior leadership involved in that business," he said.
But the company Sanders spent the most time talking about was where he had his biggest failure: Dunkin' Donuts.
Sanders wanted to get a piece of the growing consumer demand for doughnuts and coffee. So, in 2005, he co-founded Kainos Partners Holding Co. The company raised about $100 million, and got exclusive licenses in markets across Indiana, Nevada, South Carolina and other states.
"It was my idea," Sanders said. "I funded it and hired the team."
But the franchises struggled in some markets where the Dunkin' brand was unfamiliar, said Don Larose, former director of national franchising for Dunkin' Donuts in Boston. He said sales didn't meet targets and began to close. The operation probably needed more experienced hands, he said.
"Craig's biggest strengths are seeing an opportunity, pulling people together, and getting a deal done," Larose said. "He'll tell you he's not a day-to-day operations guy."
Sanders agreed: "We did not have the performance. We never achieved the performance metrics, unfortunately."
But he placed some blame on the company, saying the brand "had major issues across the country." He also blamed his bank, which he said went bankrupt in 2008, a move that required him to go to other lenders and investors to get more money.
Kainos filed for Chapter 11 bankruptcy in 2009, saying it was unable to meet its loan obligations. The company listed assets of $25.8 million and liabilities of $31.5 million.
Sanders declined to say how much money the company lost. "There's a lot of good people who have lost millions of dollars on that expansion, including myself," he said.
Making matters worse, a few months earlier the company discovered that its CFO, Christopher Cortese, had skimmed hundreds of thousands of dollars from the company to buy gifts for two girlfriends. The company fired Cortese. He was convicted in 2010 of grand larceny and later sent to prison.
As Kainos faltered, Sanders said he felt it necessary to protect his personal assets. He filed for personal bankruptcy in Indianapolis in 2013. In bankruptcy filings, Sanders claimed assets of $473,437 and liabilities of $643,807. Creditors included numerous banks, collection firms and credit card companies.
"I was on the hook for a large amount of debt," Sanders said. "And I (later) settled those, removed my personal liability, and I've moved forward. I have a beautiful home. My family's in good shape. Unfortunately, we did what we had to do to protect our personal balance sheet."
In bankruptcy dcouments, Sanders said his 2012 income, $175,000, was his salary from Athlete's Business Network, which he founded in 2009. In the documents, he described the company as a "sports broadcasting" firm.
But it's unclear what the company, known as ABN for short, has really done. Sanders said he and his partner, Yair Oden, spent many months trademarking and copyrighting the company name to protect its brand. But it's unclear what exactly there was to protect.
On its website, the company calls itself a "dynamic branding platform that brings together marquee athletes, business executives and investors/sponsors" to create ABN-branded business ventures.
But under repeated questioning, Sanders was unable to point to a single sports deal or a name a single "marquee athlete" that it has helped. He talked about helping Sterling Energy Group find properties to buy, but paused when pressed to name any sports-related achievements.
"We're really a start-up real estate developer, to be honest," he finally said.
And his first deal, with the airport authority, seems to be an audacious challenge. Still, he has assembled a large team of sports, business, legal and medical professionals, including Dr. Jim Kelly, a neurologist who was formerly director of the National Intrepid Center of Excellence at Walter Reed National Military Medical Center. Dr. Kelly has been named to lead ABN's "Global Center for Brain Health."
Whether Sanders can turn his latest dream into a workable business is up to the airport authority, his investors, his management team and market conditions.
But Sanders grew increasingly agitated during two telephone calls in discussing his business record. He said he already had productive conversations this week with local hospitals and the NCAA, which wanted to learn more about his plans. He said rehashing his earlier troubles might cause problems. His public relations consultant called several IBJ editors and reporters to try to smooth out the issues.
"The outpouring of support behind this project is just tremendous," Sanders said. "But if Craig Sanders is a polarizing figure of this enterprise, I will just simply tell you that this business is far bigger than me. … I will absolutely step aside and make sure this project advances without me."
Please enable JavaScript to view this content.