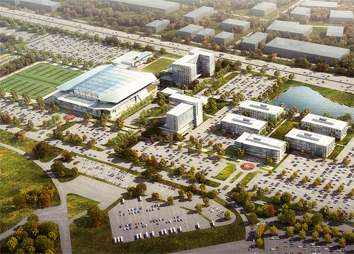 A vote on a controversial proposal to build a $500 million medical complex at the Indianapolis International Airport has been delayed so the airport board can take another look at the plan.
In a sudden turnaround, the airport authority announced Thursday evening that it removed an agenda item from its board meeting Friday morning that called for approving a letter of intent with ABN Real Estate Group LLC to negotiate a contract and lease.
The change was announced after IBJ published a lengthy story Thursday morning raising questions about the financial stability of ABN and the management track record of its CEO, Craig Sanders.
The story prompted at least one city official to call for the airport board to delay the matter so it could be studied further.
In a statement issued at 7:55 p.m. Thursday, the airport agreed to do just that.
"Since our announcement of the proposed ABN development on the grounds of our old airport terminal parking lots, we've heard from many in the community who are excited about the project, which includes a medical complex with a Global Center for Brain Health serving veterans, athletes and anyone facing concussions, PTSD, traumatic brain injuries and related health conditions," the authority wrote in a statement.
It continued: "We have also heard from some in the community asking us to have more conversations surrounding the development. … With that in mind, the Indianapolis Airport Authority will delay the agenda item involving the ABN letter of intent at Friday's board meeting so that we can further process community feedback and have additional conversations. We will have no other statements at this time."
City-County Councilor Jared Evans on Thursday afternoon called for the airport to postpone the matter.
"While our community is certainly excited to see and hear about the proposed sports-centered medical facility, we do have questions and concerns that have recently been raised," Evans wrote in a statement. "This morning, the Indianapolis Business Journal raised fair questions concerning the development and the developer. As a City-County Councilor representing the community and neighborhoods in the area of the airport and site of the future development, I respectfully ask that the Airport Authority board postpone their vote on this development until the project and financing can be fully vetted by community leaders."
The IBJ story revealed that the Sanders, the CEO of ABN, had a checkered financial history, with a business bankruptcy in 2009 and a personal bankruptcy in 2013. The story also raised questions about whether ABN had sufficient experience to build and operate a major health care development.
The airport board's next regularly scheduled meeting is March 18.
 
Please enable JavaScript to view this content.