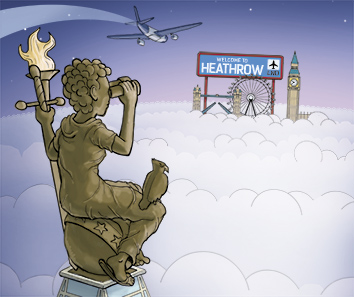 Indianapolis economic development officials have their eyes laser-focused across the pond in a quest to land a new international nonstop flight.
The Indianapolis Airport Authority's executive director, Mario Rodriguez, said the airport is in talks with American Airlines and British Airways to secure a nonstop flight from Indianapolis to London's Heathrow Airport.
Landing the nonstop flight to one of the busiest airports in the world—and a major international hub—would be a boon for Indianapolis International Airport, which is highly rated for its quality but has been criticized by businesses for its lackluster selection of international nonstop destinations.
To try to close the deal, Indianapolis International has formed a sort of coalition with the Indiana Economic Development Corp. and Indy Chamber to advocate for the flight. Airport officials say establishing the flight to London would be a win for existing businesses and make the city a more attractive place to set up shop.
Rodriguez
"It would be incredibly beneficial," Rodriguez said. "We can demonstrate a need. I think the chances are very good."
The decision to go after a nonstop London flight came from businesses, said Indiana Commerce Secretary Victor Smith, who spoke with IBJ via phone from Sydney, Australia.
Smith got there by flying from Indianapolis to Chicago to San Francisco to Sydney, "a perfect example of why we need international connectivity," he said.
"Logical places to start would be London, Paris and Frankfurt," Smith said. "But London was voted overwhelmingly as the first choice. Folks talked about the importance of London as a destination and equally important as a connectivity point."
The flight would directly benefit major Indianapolis companies with operations or headquarters in London, including Rolls-Royce Corp. and Eli Lilly and Co., along with companies who want quicker access to nearby European countries.
Rolls-Royce North America spokesman Joel Reuter said the company would benefit from a nonstop flight from Indianapolis to Heathrow, as long as it were competitively priced to be a viable option.
"London is a key destination or major United Kingdom connection hub for our employees," Reuter said. "Reducing travel time and minimizing the risk of travel delays at connection hubs are tremendous advantages. It also improves employee satisfaction."

Huber
Indy Chamber President Michael Huber said landing the flight is also about retaining and attracting businesses in the region.
"In almost every case of a relocation or expansion, especially businesses that have high-wage jobs, this is one of the first questions they ask," Huber said. "What is your connectivity to other markets? We want to see your nonstop air service. It's a productivity question."
But giving a good answer can be tough for smaller cities like Indianapolis that aren't already hubs, especially now that the airline market is substantially consolidated.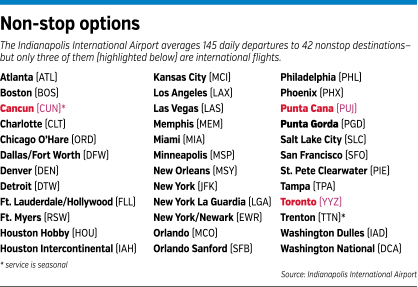 Four domestic carriers control up to 85 percent of the market, industry analysts say, and the new industry buzzword is "capacity discipline," with carriers making moves to reduce service—especially internationally.
Brookings Institution fellow Marek Gootman, director of global initiatives, said attracting new international flights poses a challenge for places like Indianapolis. But the solution might be what Indianapolis is trying—zeroing in on a common-goal destination.
"It's really a question of looking at your data, not guessing," Gootman said. "Organizing the private- and public-sector leadership for a common objective that everyone has made specific commitments to achieve. Make more strategic decisions about the markets where you want to go."
Gaining a nonstop flight to London would be a major get for the airport and follow a trend of increased nonstop destinations. Indianapolis International averages about 140 daily flights to 44 nonstop destinations.
Just three are international: There is nonstop service to Toronto and seasonal nonstop service to Cancun, Mexico, and to Punta Cana, Dominican Republic.
But United Airlines' nonstop flight to San Francisco, which started in 2014, has also provided a more direct international connection to the east, including China and Japan.
The Indiana Economic Development Corp. sealed the deal with United by offering a taxpayer-backed $1.5 million reserve fund, which Huber said acted as a "backstop" for the flight in case demand fell shy.
Rodriguez said a similar deal is possible to try to snag the London flight, but nothing is official yet.
Though Rodriguez is under no illusion that the Heathrow flight is a done deal—"The London flight is not going to be easy to get," he said—he's also eyeing more nonstop-flight destinations.
"Indianapolis to Mexico City is probably in the future," he said. "And we're looking at Seattle. That's in very good shape."•
Please enable JavaScript to view this content.