Kite Realty Group Trust is preparing to replace one of its struggling Carmel retail strips with a mixed-use development, but the firm has released few details about the project.

CEO John Kite said during an earnings call Feb. 5 that the Indianapolis-based real estate investment trust would be replacing The Corner, which sits on the southwest side of the East 116th Street and Westfield Boulevard/Rangeline Road intersection, with a new retail and multifamily housing development.

Kite said the company would be "de-leasing" and emptying out the more-than-half-vacant retail center.

Existing tenants include MacKenzie River Pizza Co., BMO Harris Bank, In Vogue consignment shop, Kimmel Shoe Repair and Smart Stop Cleaners, but the businesses occupy only 43 percent of the available 42,500 square feet of building space.

Jon Shuel, who owns MacKenzie River Pizza Co. with his brother Mike Shuel, said the two have a long-term lease on the property and plan to operate there for "many years to come."

Shuel would not specify the exact terms of the lease but said they are unaware of what Kite is planning.

A spokeswoman for Kite declined to comment on the future of the property, and no documents have been filed with the city of Carmel yet.

Tikijian
"It makes sense that it would be a mixed-use at that area since Rangeline has become a combination of commercial and housing," said George Tikijian, senior managing director for Indianapolis-based apartment brokerage firm Tikijian Associates. "I do think it would work well there."

Nearby developments continue to increase the amount of residential and retail space along the corridor, including City Center, which opened The Nash building and The Mezz last year.

Also, in October, Carmel-based Anderson Birkla Investment Partners LLC introduced a $60 million project to transform the former Party Time Rental warehouse site on Rangeline near Executive Drive into apartments, restaurants, shops and offices.

Development experts say a revamp of The Corner is probably in Kite's best interest given how poorly the existing space is performing.

Perlstein
"I think what's plagued that corner has been the size and configuration of the center itself," said Mark Perlstein, first vice president with CBRE Group Inc. "It's a difficult site to work with."

Most of the retail use is contained in a single-story L-shaped building surrounded by a 202-space parking lot that has entrances off Westfield and 116th. BMO Harris Bank occupies a 3,500-square-foot detached structure closer to the corner of the intersection.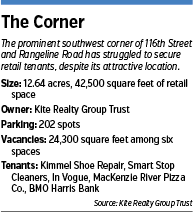 "It's very difficult to get a traditional anchor in a center like that," Perlstein said.

In 2012, Kite had intended to revamp the development, along with investing in The Centre, which sits to the north.

The company followed through with its makeover of The Centre, increasing its square footage and adding successful new tenants that include specialty grocer Earth Fare, Walgreens, Panera, Verizon Wireless and City Barbeque.

But The Corner has remained relatively the same, aside from cycling through tenants—Hancock Fabrics and Advance Auto Parts are no longer there, but MacKenzie River Pizza opened since then.

Any new development would have to follow Carmel's two-story building standard, which was recently reinstated by the Carmel City Council. In 2005, the city mandated that new structures along Rangeline be at least two stories or 17 feet tall to increase density along the main thoroughfare, but the council removed the requirement in 2013.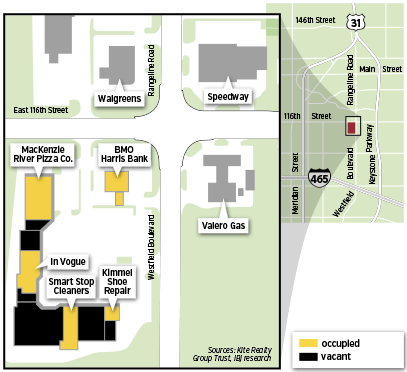 Seeking to continue to push for higher density in the city's core, Mayor Jim Brainard proposed to add the language back into city code, and the City Council approved the measure Feb. 15.

The updated standards would allow two to five stories on that corner.

But developers say Kite wouldn't pursue a one-story building, anyway, given the small size of the property—less than 13 acres.

"If it was another acre or two larger, that would be a whole different world," Perlstein said. "I'm sure they've probably looked at everything they could."

Tikijian said whatever the project entails, it likely won't be big.

"I would assume they're going to do retail on the first floor and three or four floors of apartments above," he said. "I'm gonna guess it couldn't be that many units."

Tikijian hesitated to specify what kind of housing would work best, but suggested it could be geared toward empty-nesters or individuals between that age group and the millennials.

"I think anything would work there," Tikijian said. "It's a great location."

Perlstein said it would be difficult to keep a strong retail presence on the corner without a true anchor, but he predicted that MacKenzie River Pizza Co. will stay put.

"It will be successful," Perlstein said. "I'm just looking forward to seeing what Kite comes up with."•