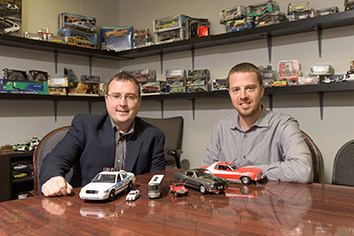 GreenLight Collectibles is selling tiny products in a market fraught with mammoth challenges.
Still, the Indianapolis-based designer, maker and wholesaler of replica cars, trucks, boats, trailers and other diminutive look-alikes has managed to gain speed with growing revenue and new distribution deals—all while many of its competitors have hit the wall.
"I've seen so many companies merge, be acquired or just plain go out of business in this industry, it's hard to count," said Bob Lorton, owner of Gearheads Auto Racing Store, a die-cast collectibles dealer in Clermont.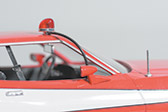 The Starsky and Hutch Ford Gran Torino is one of GreenLight's best-selling die-cast cars.
 (IBJ photo/ Eric Learned)
What GreenLight has done, he said, "is pretty amazing for any company in this industry, much less one of this size."
The Danbury Mint and The Franklin Mint are two big die-cast dealers that have baled on the itty-bitty-auto industry in recent years. With the Great Recession and continued proliferation of electronic devices and toys, sales of die-cast collectible cars hit their all-time low in 2008, according to the New York-based Toy Industry Association Inc.

Moroknek
And although the toy market—and die-cast miniatures along with it—has risen at a modest clip recently, die-cast sales are down at least 50 percent from a decade ago, said Dave Moroknek, who was the Indianapolis Motor Speedway's senior director of marketing and consumer products from 1992-2002 before he took over locally based licensed-merchandise company MainGate Inc.
Lorton pegs die-cast sales declines in the last 10 years at closer to 90 percent.
"The die-cast market has changed drastically," Moroknek said. "It's become a niche that can be successful. But you have to be very savvy, aware of trends and carefully crafting licensing and distribution deals."
GreenLight has left those market trends in the dust.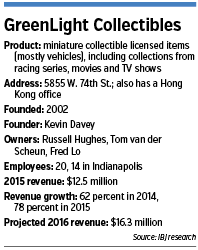 The company, headquartered near West 71st Street and Zionsville Road in Park 100, saw revenue grow 62 percent in 2014 and 78 percent in 2015, when it hit $12.5 million. That's triple what it was in 2013, company officials said.
And recent distribution deals with Target, Meijer, Toys R Us, Hobby Lobby, F.Y.E., Universal theme parks and Ron Jon Surf Shops have the company projecting sales will swell to at least $16.3 million this year.
The company has grown to 20 employees—14 in Indianapolis and six who work out of the firm's Hong Kong office. And its business is growing so fast, the company is planning to open a Los Angeles warehouse next year.
While domestic sales account for 70 percent of GreenLight's revenue, the firm's footprint has spread to 40 countries. Now, Canada, Mexico, Asia and Western Europe are some of its fastest-growing markets.
GreenLight's products look a lot like toys, but they shouldn't be pigeonholed into that category, Lorton said.
"They're so much better than Hot Wheels," he said. "Their products are meticulously designed and made with opening doors, hoods and other moving parts. They look like real cars—just miniature. They're collectibles."
At least 80 percent of those purchasing GreenLight products are older than 18, said the company's part-owner and president, Russell Hughes. Eighty-eight percent are male, with 25- to 34-year-olds making up nearly one-third of sales. The 55-plus group is also a strong demographic, Hughes added.
GreenLight was founded in 2002 by former IMS licensing executive Kevin Davey. The company was an outgrowth of his Davey Sports Management Inc. and Radius Group Inc. dating back to the late 1990s.
 
Back then, GreenLight was heavy into sports-oriented products, including a bass fishing line and IndyCar replicas, the latter of which now account for less than 10 percent of business.
When Hughes and his two partners, Dutchman Tom van der Scheun and China-born Fred Lo, bought out Davey and several silent partners in February 2013, they took a detour that led them to license a line of TV show and movie-themed vehicles.
GreenLight had tested those waters in 2010, selling a Steve McQueen "Bullitt" car. But Russell and the new owners punched the accelerator on that strategy.
"What we found was the Steve McQueen car sold much better than the regular Mustang," said Matthew Elliott, GreenLight's director of licensing and product development.

Fast and Furious growth
Now GreenLight's offerings run the gamut from a "Fast and Furious" line—GreenLight's top seller—to cars from "The Blues Brothers," "Starsky and Hutch," Elvis Presley and the TV show "Supernatural".
"We're now targeting A-List properties," said Hughes, a 34-year-old Butler University economics graduate who joined GreenLight as an intern.
A new line of cars from the TV show "Walking Dead" is selling fast and Hughes expects it to rival the top sellers this year.
"We find that fans of the shows or [of] the stars on the shows see these vehicles on TV or the movies, and they have to have one," Elliott said. "Maybe they can't afford the real thing, but they can afford a nice [miniature] replica. For some, they're very nostalgic or just great show pieces."
GreenLight is launching its first remote control car, one themed for the movie "Gone in 60 Seconds". The replica of the Eleanor Ford Mustang from the movie will retail for $30. In 2017 and early 2018, Hughes said, GreenLight will release a full line of RC vehicles.
The company even has some offbeat lines, including a New York Police Department cars collection that includes construction barrels and barricade sawhorses.
GreenLight's replicas come in a variety of sizes and retail prices, with the smallest, 1:64 scale—about 2 inches long—selling for $3 to $10. It's the top-selling size.
Second-most popular is the 1:18 scale, which is 11 to 12 inches long and sells for $40 to $70 retail. A more detailed 1:18 collection, with more than 150 separate parts, sells for more than $100. The company also offers a 1:43 scale, which is 4 inches long, for $15 to $20.
GreenLight's product margins are 30 percent to 40 percent, Hughes said, and retailers are looking for a 40 percent to 50 percent markup, which they have largely been able to achieve.
Many of GreenLight's vehicles have serial numbers and some—known as the Green Machine line—are limited editions, counting for only about 3 percent of the total production run and sold at random locations, a marketing strategy that causes hard-core collectors to travel from store to store looking for the rare items and creating much-wanted foot traffic for the GreenLight's retail partners.
"Green Machine would be heralded in the same light as rare baseball cards—highly sought after, greater after-market value than the regular versions, and bragging rights amongst collector groups," Hughes said.
Undaunted
The decision to take a left turn into licensed movie and TV show collectibles, Hughes said, is what has kept GreenLight ahead of the curve. Or more accurately, Lorton said, from crashing in dead man's curve.
"They've succeeded by avoiding all the potholes," he said.
Companies selling die-cast collectibles face challenges on several fronts, industry sources said. First, there are the behemoths like Mattel's Hot Wheels and Hasbro, who sell myriad die-cast vehicles for less than $2. Then there's the upward pressure on wages in China, where for decades most of these products have been made.
Managing overseas quality control and the threat of lawsuits is also a major concern—especially for smaller companies with fewer resources.
It's also not easy for small firms to win license deals with TV show producers, movie production houses and other entertainment conglomerates that are often on the coasts. Nor is it easy to sign distribution contracts with large retailers who often want a six-figure upfront payment and a hefty royalty guarantee.
In addition, the products' tiny molds can be surprisingly expensive, Moroknek said.
"You have to find a way to make lines where you can reuse the molds," he said.
And while making movie- and TV show-themed cars seems like a slam dunk, Moroknek said you have to be a skillful prognosticator not to take a bath on a failed line of goods based on a flopped TV show or movie and get stuck with excess inventory.
"Just one or two failed deals can really sap the resources of a small to mid-size company," Moroknek said.
GreenLight isn't intimidated by any of that.
It contracts with about a dozen Asian manufacturers at any given time, right now in China and Bangladesh, and often has one of its own employees at each factory to manage quality control.
"Nothing gets out of the factory without one of our people laying eyes on it," Hughes said.
While negotiating a deal with a giant retailer takes six to 15 months, Hughes said navigating that maze hasn't proven too tricky for his small firm—once it gets its diminutive foot in the door.
"I think we've built a reputation for signing licensing agreements with meaningful dollars attached to them and then in most cases far exceeding what we promised," he said.
In most instances, a manufacturer like GreenLight gives retailers a percentage of sales—and guarantees a specific revenue stream. Sometimes an upfront payment to get shelf space is also required.
"We're often bidding against giants of the industry," Hughes said. "We try to show our unique angle for high-end items."
If the deals aren't put together right, a manufacturer can lose a six-figure sum "just like that," Moroknek said.
Hughes, who learned the business from the ground up in the early 2000s as a sales and marketing intern, said he has an ace in the hole.
While he never collected die-cast cars, he did collect stamps, pins, sports cards and wrestling toys.
"To do well in our business, you have to be of the collecting mind-set," Hughes said. "You have to understand why people are spending meaningful amounts of money on our items. I have that mind-set. And I have the bins full of items at home to prove it."•
Please enable JavaScript to view this content.