Finalist: Volunteer
William T. "Rusty" McKay II
Volunteer at Fairbanks Addiction Treatment Center
Helene Cross, the former CEO of Fairbanks Addiction Treatment Center, used to say, "Without a margin, there's no mission."

Rusty McKay, a volunteer at Fairbanks for more than 20 years, took that to heart, helping to bolster Fairbanks' financial condition and to carry out its mission by working directly with those who seek treatment at Fairbanks.

A native of Fort Wayne, McKay lived in Chicago before moving to Indianapolis in the mid-1980s to head up a company that operated Cub Foods grocery stores here for more than a decade. After his own battle with alcohol addiction, McKay was moved to help others and began volunteering at Fairbanks in the early 1990s.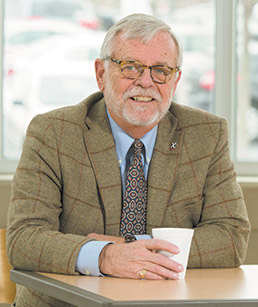 (IBJ photo/Eric Learned)
He started by helping conduct a support group for men, then was asked to serve on the Fairbanks board, which he did from 2000 to 2010, the last four years as chairman. When term limits forced him off the board, he joined the board of Hope Academy, a high school for recovering teenage addicts that McKay had helped Fairbanks launch a few years earlier.

Fairbanks had been under contract with the state to house and treat teenage addicts, but a high percentage of them relapsed when they returned to high school, prompting McKay and others to sponsor a school that would give teens a better chance of kicking their addictions long term.

Now McKay is back on the Fairbanks board, where he's been instrumental in a number of endeavors since his first term started in 2000. Among those accomplishments: helping Fairbanks become a United Way agency, leading a $6.7 million capital campaign that led to facility upgrades, and helping diversify the board.

"When I started on the board, it was a bunch of old white guys in recovery," said McKay, who credits Cross, the former CEO, for many of Fairbanks' achievements since 2000.

Clearly, McKay himself has had a positive effect on the organization.

"Fairbanks is fortunate to call Rusty McKay a volunteer, board member, advocate and friend. We are so thankful for his time and energy. Not only has he made an incredible impact on Fairbanks, but he has touched hundreds of individuals in our community as they look to get their lives back," said Kent L. Brown, Fairbanks' president and CEO.

Indeed, working with individuals has been the most rewarding part of McKay's work with Fairbanks. He volunteers weekly with a support group for men and has worked one-on-one with men over the last 27 years. His wife, Patricia, volunteers to help women at Fairbanks. "To see them rebuild their lives is an incredible gift for us," McKay said.•