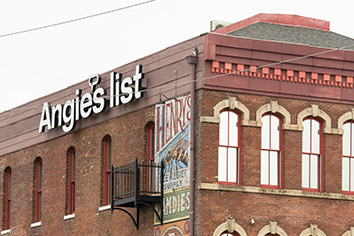 Angie's List Inc. said Tuesday morning that it is adding three board members as part of a settlement with an activist investor who has been pushing for the company's sale.
Under the deal, the activist, Eric Semler, founder and president of New York-based TCS Capital, is joining the board of directors, as are consumer technology and media industry veterans George Bell and Tom Evans.
 
Meanwhile, John Biddinger, an Indianapolis financial executive who had been on the board for a decade, is stepping aside. The changes leave the Angie's List board with 11 members, nine of them independent.
 
"Eric has an excellent investing track record in the digital space, and we look forward to his input as we work to enhance shareholder value at Angie's List," Angie's List Chairman John Chuang said in a statement.
 
Chuang said all three newcomers will be "valuable contributors" to the home services marketplace company.
 
The pact includes a standstill agreement that prevents TCS from boosting its Angie's List ownership stake beyond 12.75 percent, 2.05 percentage points higher than it is now.

It's not clear whether Semler as a board member will continue to push for an immediate sale or will go along with new CEO Scott Durchslag's strategy of staying independent, at least for now, and giving a host of new growth initiatives time to gain traction.
 
In the press release announcement the settlement, Semler said: "We will work with our fellow board members to oversee Angie's List management and to help drive improved operating and financial performance in 2016 and beyond. We are excited to begin this important work immediately."
 
Semler in November had
refused one board
seat offered by the company and urged it to consider merging with HomeAdvisor, an Angie's List competitor owned by New York-based Internet giant IAC/InterActiveCorp. Semler released the letter weeks after Angie's List
rejected an offer
from IAC to buy Angie's List for $512 million in cash, or $8.75 per share.
"If the board remains steadfast in refusing to consider the IAC offer or any other strategic alternative that would generate superior value for [Angie's List] shareholders, we will not hesitate to take any and all actions that we deem necessary to protect shareholders' rights and best interests," Semler said in the letter. "We remind the board that time is of the essence."
 
Angie's List investors have been expecting IAC to
sweeten its offer
.
After Tuesday's announcement of the settlement with TCS, the company's shares swooned, dropping 61 cents, or 6.7 percent, to $8.62.
Please enable JavaScript to view this content.