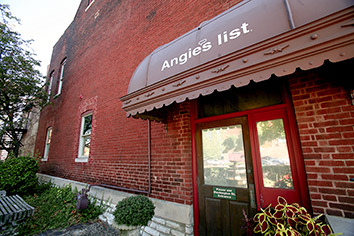 Angie's List Inc. announced plans Thursday morning to overhaul its membership model by offering a tiered subscription plan that includes free access to its ratings and reviews.
The home-services marketplace company's least expensive subscriptions currently start at $3.25 per month. The new free option will come with display advertising on the site.
The company will still offer paid options—annual silver subscriptions at $24.99 and gold subscriptions at $99.99—that include more services and features.
The Indianapolis-based company expects to begin opening the ratings and reviews paywall in select markets in the second quarter, with the full rollout expected to be completed in the third quarter. Smaller markets are likely to be the first to see the changes. Indianapolis, one of the company's largest markets, probably won't see the new model until summer or fall.
"The new plan announced today transforms our legacy business model to bring in a new era of growth and profitability at Angie's List," CEO Scott Durchslag said Thursday in a written remarks. "Angie's List is the premier brand in the $400 billion home services market. By removing the paywall for ratings and reviews, our new 'Profitable Growth Plan' removes the barrier that has limited our growth and enables Angie's List to engage with more consumers and more service providers than ever before."
Angie's List said it expects the new free structure to result in lower-than expected revenue in 2016. The company offered full-year guidance for 2016 with revenue expectations between $345 million and $355 million, and adjusted earnings of $31 million to $35 million. Analysts had previously predicted revenue at $361.6 million. Revenue in 2015 was $344.1 million.
Durchslag, however, expects the new fee structure to result in a flood of new memberships that will begin translating into higher revenue and profits in future years. The company expects annual revenue to grow to $750 million and adjusted earnings to hit $150 million by 2020, it said.
The new fee structure will help Angie's List counter criticism from top competitor HomeAdvisor. HomeAdvisor is free to consumers, but charges service providers an annual subscription to be part of its screened network of professionals.
Service providers aren't required to pay anything to be seen on Angie's List, but many sign contracts with the company to advertise and sell pre-packaged service offerings to Angie's paying members.
Angie's List, which filed its initial public offering in 2011, notched its first annual profit in 2015, but analysts have been concerned about slowing revenue growth. Lower spending on marketing helped the company ensure profitability last year, but revenue grew only 9 percent from 2014 to 2015, after swelling 28 percent from 2013 to 2014.
Company officials say they will be able to reduce marketing costs by offering free subscriptions, which will offset the loss of membership fees.
In a report issued Thursday, Cowen and Co. analyst Kevin Kopelman said the plan is a promising one that could ease pressure from investors and activists who have been calling for a sale. 
"This is a major positive model change that should accelerate traffic, but comes with challenges," Kopelman wrote. "Removing the paywall should significantly increase Angie's List traffic. However, Google has also increasingly made changes to its search results that make it more difficult to generate free, organic traffic—including both promoting its own Google Local content and increasing the number of paid ads at the top of search results, and competitors like Yelp have built up strong brands around free reviews content."
"Nevertheless, we believe Angie's List has a very large lead in reviews content in the Home Services category and thus should significantly benefit from increased exposure following the removal of the paywall," he said.
Kopelman predicted Angie's List will have a year or so after removing of the paywall to show improvement before it comes under more pressure to conduct a sale.
Activists have been loudly calling for the company to merge with HomeAdvisor. In November, Angie's List rejected a $512 million buyout offer from New York-based Internet giant IAC/InterActiveCorp, which owns HomeAdvisor.
Earlier this week, Angie's List added three board members as part of a settlement with an activist investor who has been pushing for the company's sale. Under the deal, the activist, Eric Semler, founder and president of New York-based TCS Capital, is joining the board of directors, as are consumer technology and media industry veterans George Bell and Tom Evans.
Durchslag was at NASDAQ's headquarters in New York on Thursday presenting the new plan to investors and analysts. He said his team began breaking down the company's business plan and formulating a new model as soon as he joined Angie's List on Sept. 8.
"It's no small thing for a public company to change its business model," he said, but "all the data was clear" about the need to switch to the so-called "freemium" model.    
Durchslag said all the feedback he received Thursday about the plan was "consistently and energetically positive." That was reinforced by Angie's List's stock price, which rose almost 5 percent, to $8.79 per share in early-afternoon trading.
Please enable JavaScript to view this content.