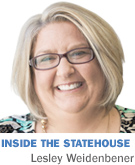 as the presidential primaries are reaching their crucial moments, voters in Indiana are left on the outside looking in.
Indiana's primary isn't until May. And by then, voters in some 40 states will already have gone to the polls and likely—although not necessarily—narrowed their respective candidates down to a nominee.
So why does Indiana (as well as Kentucky, New Mexico and even California, among others) choose to wait so long to participate that their primary votes cease to matter? Well, in Indiana at least, that's actually complicated.
Voters and politicos around the state have long called for Indiana to move up its presidential primary. In fact, it's tough to find an Indiana leader now who will own up to a desire to keep Indiana's presidential primary in May.
Former Gov. Mitch Daniels eight years ago proposed moving it, saying the state could pay for the extra Election Day by charging a tax on campaign-related sales, such as TV ad buys. Former Gov. Evan Bayh agreed, telling Howey Politics then that "we ought to find a way to work together to make sure our voices are heard more often than every four decades."
Sounds simple. Plenty of other states have done it. Over the years, primaries have moved earlier and earlier as states have competed in an effort to be important in the races. And it's not just about giving voters a voice. It's about being courted. It's about the millions of dollars in advertising that gets poured into early primary states.
Just look back at the 2008 Democratic primary when the battle between Barack Obama and Hillary Clinton was so tight that Indiana's primary actually did matter. The two were still competing in May and the campaigns set up dozens of local offices in Indiana communities, made public appearances all over the state, and flooded the airwaves with ads.
It wasn't just fun; it was lucrative.
But efforts to move up Indiana's primary have stalled in the General Assembly over concerns about the impact the change could have on the state's own elections and the county governments that run them.
Moving Indiana's entire primary to February or March would put it smack dab in the middle of the legislative session. For many lawmakers, that's just a no-go.
The need to be at the Statehouse would prevent lawmakers from going home to campaign in their districts. Also, if you think the votes lawmakers cast now are influenced by election concerns, imagine what it would be like to have them voting on big issues just days before voters go to the polls.
To answer that concern, some advocates of an earlier primary have pushed for a third Election Day every four years, one dedicated only to the presidential race and scheduled early in the year.
But that would be expensive.
Without substantial changes in the system, every county would have to recruit, train and pay hundreds of poll workers, print thousands of ballots, and operate hundreds of voting machines. Those costs can total hundreds of thousands of dollars in larger counties.
And moving the presidential primary to its own day would likely depress voter turnout during the later May primary, in which voters would choose nominees for state and local offices.
Indiana could turn the cost of a presidential primary over to political parties or—as Daniels suggested—find a way to collect revenue from the candidates that could be used to fund the extra election. That would be unusual. Currently, presidential primaries across the nation are government-funded—but caucuses are funded by political parties. Indiana could consider a caucus system instead, although that would be a dramatic change.
In the past, lawmakers have voted to study the primary issues, although little has come from those efforts. But now—with both political parties immersed in exciting races—there might be some renewed energy to think about moving Indiana's primary up. It's too late to do anything about it this year. Lawmakers are trying to adjourn on March 10.
But don't be surprised to see a new effort for change get under way—especially if Donald Trump and Hillary Clinton become their parties' nominees without any say from Hoosiers.•
__________
Lesley Weidenbener covered the Statehouse for two decades. She is now IBJ's managing editor.
Please enable JavaScript to view this content.