The problems at Tindley Accelerated Schools didn't go away when Chancellor Marcus Robinson resigned. If anything, the change served only to highlight the challenges still facing the once-lauded charter school system.

A cash crunch, substantial teacher and administrative turnover, missed enrollment targets and unfounded rumors about the possible closure of an elementary school—whispers that had the network scrambling to keep principals from leaving—continue to plague Tindley.

Concerns boiled over during a recent school board meeting at Charles A. Tindley Accelerated School.

Tindley parent Amelia Aguirre said she was pulling her son out of Tindley school because he had been without an algebra teacher for three months.

"I feel like Tindley has failed us," Aguirre said at the Feb. 25 meeting, where Tindley leaders were meeting for a frank coversation about the homegrown network's future.

Robinson
Now, without the direction of Robinson—one of the most prominent faces in the Indianapolis school reform scene—Tindley has to answer tough questions about the network's size, financial position and how to move forward.

"I don't think this is rocket science," said board member Mark Bruin. "We grew too fast, too quickly. Looking back, I don't know [that] some of this should be that big a surprise."

The tumult in Tindley's top administration has continued since Robinson's sudden resignation on Feb. 8. IBJ reported in December that Robinson was under scrutiny following lavish hotel and travel spending that he charged to the Tindley credit card. In a press release about his resignation, Robinson said he was leaving to finish his doctoral degree.

Evan Hawkins, the network's chief operating officer who joined Tindley in 2011, resigned at midnight Feb. 24 from the role as Tindley treasurer. The next day, the board appointed the network's controller, Terri Anderson, as interim treasurer. Hawkins did not respond to IBJ's request for comment.

Board members, meanwhile, have been scrambling to reassure principals across the network that they should stick with the schools. The board in late February renewed a lease for the space used by Tindley Summit Academy after some worried it would close at the end of just its second year.

"We've got to keep those principals and give them assurances," board member John Neighbours said.

So far, board members say the plan is to "stay the course" and that they have no plans to close any schools.

"The only way we sustain that is to make sure we have the enrollment to support it," said board member Adam Horst, vice president and controller of Indiana University Health. "It will help make sure we can keep the door open."

Bruin
Still, Tindley continues to struggle financially.

The system finally tapped into a $750,000 line of credit from the Charter School Growth Fund, which it had previously considered using to make November 2015 payroll.

The network borrowed $250,000 from the fund in late December and then $750,000 from a new state-funded charter school loan program. Bruin said Tindley used the state loan to repay the $250,000 borrowed from the growth fund. The balance, he said, is being used for "working capital purposes."

Tindley had been projected to end the year with a negative cash balance of 187,000, according to estimates distributed at a recent school board. However, it actually had $340,000 in its checking account on Dec. 31. That included $250,000 the school system had borrowed from the Charter School Growth Fund.
The projections showed the network's cash balances swelling to $1.57 million in mid-February but expected to drop to a mere $3,697 by the end of June.
"The projections show we may, and I stress may, need to borrow additional money in May [or] June," Bruin told IBJ in an email.

Still, Bruin, who is executive vice president at the National Bank of Indianapolis, described the network's financial position as "manageable."

He said principals and staff members are focused on fixing the network's enrollment problem, and that the overall network is working to reduce overhead and non-classroom expenses.

As of Feb. 19, the network needed to enroll 1,176 students for the next school year to reach its enrollment and wait-list goal of 1,844 students, according to a document distributed among board members.

This year, Tindley schools enrolled 1,664 students, and Tindley so far has recommitments from 38 percent of those students to return.

In the past, Bruin said, "we relied too heavily on staff from the network office" to recruit students.

"Today, the principals understand this is a key responsibility for them," he said. "I am very optimistic that these efforts are going to pay huge dividends in attracting and retaining students."

Bruin said the goal is to use part of the $8 million the network has been granted in state charter school loans to fund "expenses and expansion plans." Some of the funds will be used to refinance the network's debt from its facility leases.

Tindley leaders have in the past criticized the Legislature for providing charter schools only operating funds. They do not receive property tax revenue or state money for transportation costs, building construction and equipment as public schools do. Some of Tindley's lease payments eventually reach 9 percent to 10 percent annual interest rates; the state loan funds have 1 percent interest rates.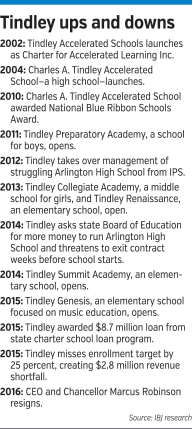 "Charter schools have had to be creative in how we finance buildings and classrooms," Bruin said. "The state loan funds will be used to help refinance that debt to more attractive terms."

Robinson legacy

The board has said Robinson will remain involved at Tindley until his contract is officially up in June.

But the board is moving forward with a national search to fill his position and is interviewing search firms to assist with that. Robinson and Hawkins were removed as Tindley bank account signatories on Feb. 24 and replaced with other staff members.

Meanwhile, the network earned a "deficiency" on its most recent audit by public accounting firm Crowe Horwath LLP on Feb. 5 for its handling of Robinson's credit card transactions.

IBJ previously reported Robinson, who was paid about $210,000 in 2012, used his Tindley credit card over the past two years to pay for frequent first-class flights, stay at four- and five-star hotels—including the Ritz Carlton and the Waldorf Astoria, and pay for meals.

Robinson's expenses were submitted via email, with "no documented review or approval" of the expenditures, Crowe found in its audit. The firm recommended the board document and review credit card transactions monthly orquarterly going forward.

Board members said they didn't feel intentionally misled by Robinson, but board member Neighbours said they might have "relied too heavily on [Robinson's] representations."

"The guy ran a million miles a minute," Bruin said. "It's not an exaggeration to say you'd get emails at midnight. I don't think there was ever a deliberate attempt [to mislead us]. Could there have been better communication? Sure.

"He built this amazing thing," Bruin said. "Really, why would you doubt him?"

Moving forward

Besides financial issues, Tindley is also fielding parental concerns about communications and academic quality.

"They've been playing school in this building," parent Joe Johnson told board members. "It's just not acceptable."

Tindley's chief academic officer, Dina Stephens, acknowledged that Tindley's high teacher turnover—which she said has "definitely gotten worse"—has had an effect on the classroom.

The board has discussed raising teacher pay to help address that, Bruin said, because it recently analyzed market data and found that Tindley had below-average salaries compared to the rest of the area.

"That causes a lack of integrity in the classroom to academics," Stephens said. "It's something we really have to address. You can't work 7 a.m. to 7 p.m. and not be paid what you're worth. It's a balance. We've taken our eye off the ball in some regard."

Parental communication is something Kelli Marshall, who has been named interim chancellor, said she is sharply focused on improving in the near term.

At the board meeting, Marshall, who previously served as principal of Tindley Collegiate Academy and whose daughter attends Tindley schools, spoke directly to the concerned parents as they vented their frustrations.

"I've experienced and am experiencing the exact things you are, even in the role I sit," Marshall said. She said those problems are why she agreed to take the job. "Finding out what the concerns are first is going to have to be where I start.
This story has been corrected from an earlier version. It now reflects that Tindley Accelerated Schools had $340,000 in its checking accounts at the end of the 2015 calendar year, including $250,000 it borrowed from the Charter School Growth Fund. The previously said the charter school system finished the year in the red. That figure was based on an earlier projection of the network's financial position distributed at a recent board meeting.