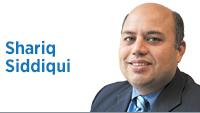 Times have changed.
On March 3, I had the opportunity to witness my friend Eric Holcomb being sworn is as lieutenant governor of Indiana. This ceremony led me to reflect on our friendship, which started in the holy month of Muslims, Ramadan, in 2004.
Eric was part of the "My Man Mitch" campaign and responsible for outreach to faith communities. The Muslim Alliance of Indiana had invited both campaigns for governor to meet with their leadership and attend their annual Ramadan Iftar (breaking of the fast). It was no surprise Mitch Daniels took us up on the offer, and Eric spent the evening with the Muslim community at the mosque in Plainfield.
The same mosque that, just a few days before Eric's swearing-in as lieutenant governor, was vandalized with horribly racist graffiti. The same town in which a Muslim woman was approached by a police officer, asked to draw down her window at a traffic light, and then spat at. The same town in which another Muslim woman returning from dropping off children at the local Islamic school was chased by a man in a pickup who then exposed his genitals. Both women afraid to report these acts because of fear of further scrutiny.
The 2004 meeting led to a relationship with Indiana's Muslim community for both Eric and Mitch. They hosted the Muslim Day at the Statehouse, eight consecutive governor's Iftars (at both the governor's residence and Statehouse) and other state functions. Mitch and Eric were committed to serve all of Indiana.
How times have changed.
I remember sitting in a prayer breakfast immediately after the first time offensive cartoons about the Prophet Muhammad were published in a newspaper in Europe. Mitch was the keynote speaker. Eric again ensured the audience included a diversity of faiths, including Muslims. The theme of the breakfast was religion and media. Mitch argued religion was under attack by the media. He said no religion should remain silent when the offensive cartoons were published. He said while the law protects the right of the media to publish cartoons, it also allows people of faith to condemn such defamation. His message was clear: When one faith is attacked, all faiths are attacked.
Mitch and Eric have been clear through the years about not standing for bigotry and rejecting those within their own party who seek to distort the values of the party of Lincoln. I might not have agreed with all their positions on public policy, but I have always admired their courage to stand up against bigotry even when it wasn't the popular thing to do. It takes courage to stand with Muslims for eight years when polling suggests that many of Indiana's voters have an unfavorable opinion of this faith community.
How times have changed.
The Republican Party is set to nominate Donald Trump as its candidate for president. While condemning the entire GOP as racist or bigoted because of this is certainly unfair, it is clear that, had the field been smaller, Trump would have had a more uphill task. Many establishment politicians are now taking the position that it is better to get behind Trump in a general election in the fall than to allow Hillary Clinton to win.
In essence, having someone willing to embrace David Duke, the KKK and white supremacists is better than a centrist Democrat. Ideology trumps racism.The GOP establishment that prefers Trump over Clinton is seeking short-term electoral success over longer-term party success.
I, like many Americans, have concerns about Clinton. However, voting against Trump is a moral imperative. Bigotry, racism and fascist-like rhetoric should have no place in our national political discourse, let alone in the White House.•
__________
Siddiqui is an attorney, has a doctorate from the Lilly Family School of Philanthropy at IU and leads the Association for Research on Nonprofit Organizations and Voluntary Action. Send comments on this column to ibjedit@ibj.com.

Please enable JavaScript to view this content.